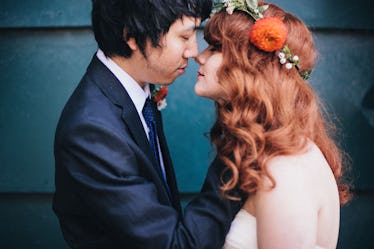 A Wedding Planner Reveals Whether Or Not You Should Have A Wedding On A Holiday
Aside from figuring out the seating chart (let's see how many awkward combos you can avoid, eh?) setting the date is perhaps the most challenging aspect of wedding planning. After all, the date will take on an undeniable significance — you'll make countless memories on it, and even possibly engrave it on memorabilia down the road. "What about a holiday?" you innocently muse. "Family will already be gathered in the same city, anyway." Instantly, you're daydreaming about how the twinkling lights and soft snowfall will make for stunning photos. But should you have a wedding on a holiday? You may want to think twice about it, according to Mandy Connor, owner of Hummingbird Bridal & Events.
Connor has planned her fair share of holiday weddings. "They're not my favorite," she admits to Elite Daily. "You're asking a lot of your guests."
First off, Connor says it's important to consider that if you have many guests coming from out of town, they'll undoubtedly be spending a lot more money — and time — to attend your big day, since hotel/flight prices and travel time all increase around the holidays.
Not to mention, your guests may have to change their typical plans or forfeit traditions around that holiday.
"From a celebratory perspective, you're asking them to give up a part of their holiday to celebrate with you," explains Connor.
And don't forget about the others involved in making your big day memorable — Connor points out that the venue staff, caterers, and photographer will all have to give up celebrating the holiday with family or friends to be there.
"That's why vendors will not negotiate on pricing at that time of year," says Connor. "Because they're sacrificing so much."
For these reasons, Connor advises getting married around a holiday, but not on the actual day. For example, she says the week after New Year's Eve is a phenomenal time to tie the knot because prices on hotels and flights tend to drop.
For Tina Kolokathis, 26, saying "I do" on the third of July (as opposed to the fourth) came with plenty of perks.
"My husband is a teacher, so to be able to take time off to get married and go on a honeymoon in the summer was the only answer for us," she tells Elite Daily. "Summer is peak pricing for weddings. The biggest benefit for sure was the price of our reception. We got married on July 3, 2018, which was a Tuesday. It was half of the price of a Saturday night, and most people had off work the next day for the Fourth of July. My husband and I paid for the wedding mostly on our own, so this was huge for us to be able to afford it!"
Kolokathis says she didn't see many drawbacks in her decision to get married so close to a holiday.
"I'm sure some people were a little miffed at us for it, though nobody really told me or my husband," she explains. "I think a total of two people had to leave after the cake was cut, but it didn't make a huge difference to me. The people that mattered most to me were there, and people still rave about the party five months later!"
In fact, she says she's glad she said her "I do's" on July 3d — and she wouldn't change her wedding date if she had the chance.
"That way we won't have to celebrate each anniversary at a BBQ, LOL," she adds. "But even if that was the case, it's the last thing on my mind! When I think of my wedding day, I think of kissing my husband for the first time as a married couple, eating everything in sight (yes, you will eat, don't listen to anyone who says you can't or won't!), and ruling the dance floor with my family and friends. I don't regret anything about the date. If I had to do it all over again, I'd do it the exact same way."
Of course, there are some rewards to getting married close to a holiday as well — for one, you're sure to get some breathtaking photo ops.
"If you plan a destination wedding in Boston around the holidays, for example, the whole city is decorated, which adds to the aesthetic of your wedding," says Connor. "Plus, there's always anticipation in the air around the holiday, which can add to the excitement. And if you're hosting a church wedding, churches are almost always decorated beautifully for the holidays, so you don't have to spend as much on decor!"
According to Connor, the cons outweigh the pros when it comes to getting married on major holidays, which is why she typically tries to steer couples away from Thanksgiving, Christmas, and New Years. The exception, she says, are smaller holidays like Memorial Day, Labor Day and Columbus Day, when people may not have such deeply steeped traditions or plans to give up. In fact, these are the top three most popular holiday weekends for weddings, according to WeddingWire. And it makes sense: most people have a long weekend, anyway, making it more convenient for them to travel and take part in the festivities. However, it's worth noting that prices tend to be steep and venues often book up quickly because they're long weekends as well. As such, Connor recommends reserving a space for these holiday weekends far in advance, particularly if you're on a budget.
So, should you have a wedding on a holiday? Only after you give some serious thought to whether it will cause any stress for your guests — financial or otherwise. Naturally, you want your guests to be capable of celebrating with you without having to compromise a lot of time, money, or important traditions. And if you'd like to take advantage of the holiday spirit without putting them out, you can always plan your big day within a week of the holiday instead of on the actual day. The added bonus? Your wedding anniversary won't fall on a holiday, which means you'll get to celebrate both occasions separately.