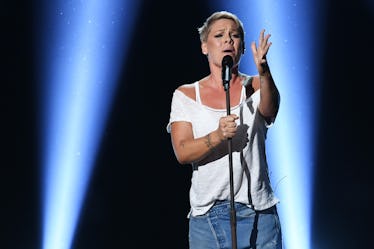 Pink's National Anthem Performance At The Super Bowl Will Give You So Many Chills
Kevin Winter/Getty Images Entertainment/Getty Images
When I heard P!nk was performing the national anthem at this year's Super Bowl, I was psyched. Like, "had to stop and take deep breaths" excited. I love P!nk and think she's one of the most talented singers in the pop music world. The idea of her belting out the anthem sounded amazing. And you know what? It totally was. P!nk's national anthem performance blew fans away. If there was an encore option at the Super Bowl, P!nk totally would have received it.
P!nk's performance was gorgeous (as expected). The singer wore a shimmering silver jacket with a grey-shaded camo blouse underneath. She gave a powerful vocal performance. One amazing thing about P!nk is that she never lip syncs... ever. So you know everything she does is genuine. The singer tweeted on Feb. 2, to clear up any question on this topic. She said,
I hear there's a debate over whether or not I sang live on grammies, I have never lip synched in my entire life. I'm 100% against it.
Fans first caught wind of P!nk performing at the Super Bowl via Twitter. Only the sharpest eyes picked up on the ambiguous tweet from the singer and what she was hinting at. Before the big news was announced, P!nk tweeted on Jan. 6, about how excited she was for 2018, the Grammys, her tour, and "other stuff" that she couldn't talk about at that point in time. The full tweet said,
I'm really looking forward to 2018. I'm really excited about the Grammy's. Tour. Some other stuff that's a secret still and I can't wait til it's not a secret. I'm also excited for trump to lose his twitter password and also I'm excited that I have dope hair.
Once she could finally talk about the news, the singer was so excited, she could barely formulate a tweet. We've all been there. The Pennsylvania native gushed about performing and her home-state team, the Philadelphia Eagles, playing in the big game. She said on Jan. 21,
Ummm. I'm singing the national anthem and the EAGLES ARE PLAYING?!?!?! IS THIS FOR REAL?!?!?!THATS WHASSUP!!!!!!!! Shtjtkd widnamc ckamcnsnzncbx!!!!!!!!!!!!!!!! Wooohooooooooooooioooooooooooooooooooooooooiiiiiiooooooooooo
And of course, the queen's performance on the big night was unforgettable.
Needless to say, fans adored P!nk's performance, and now, we all wish it would carry over into halftime.
P!nk's Super Bowl performance comes shortly after she belted out "Wild Hearts Can't Be Broken" on stage at the 2018 Grammy Awards. She kept it simple in a white T-shirt and jeans, which was actually linked to the Time's Up movement. To represent the movement, Grammy-goers sported a white rose on the red carpet before the event. P!nk took it one step further by transforming herself into the white rose.
The powerful lyrics to "Wild Hearts Can't Be Broken" begin,
I will have to die for this I fear/There's rage and terror and there's sickness here/I fight because I have to/I fight for us to know the truth
There's not enough rope to tie me down/There's not enough tape to shut this mouth/The stones you throw can make me bleed/But I won't stop until we're free/Wild hearts can't be broken/No, wild hearts can't be broken
Very fitting with the Time's Up movement and survivors of sexual assault who have demonstrated enormous strength by sharing their stories, the lyrics continue,
This is my rally cry/I know it's hard, we have to try/This is a battle I must win/To want my share is not a sin
In the last verse, P!nk reminds us all, "there's nothing but a victory."
You beat me, betray me/You're losing, we're winning/My spirit above me/You cannot deny me/My freedom is burning/This broken world keeps turning/I'll never surrender/There's nothing, but a victory
Overall, P!nk's Grammy performance was simple, yet unforgettable. And her confidence flowed over into singing the national anthem at the Super Bowl. What's next? Her tour and more badassery (obvi).
Check out the entire Gen Why series and other videos on Facebook and the Bustle app across Apple TV, Roku, and Amazon Fire TV.