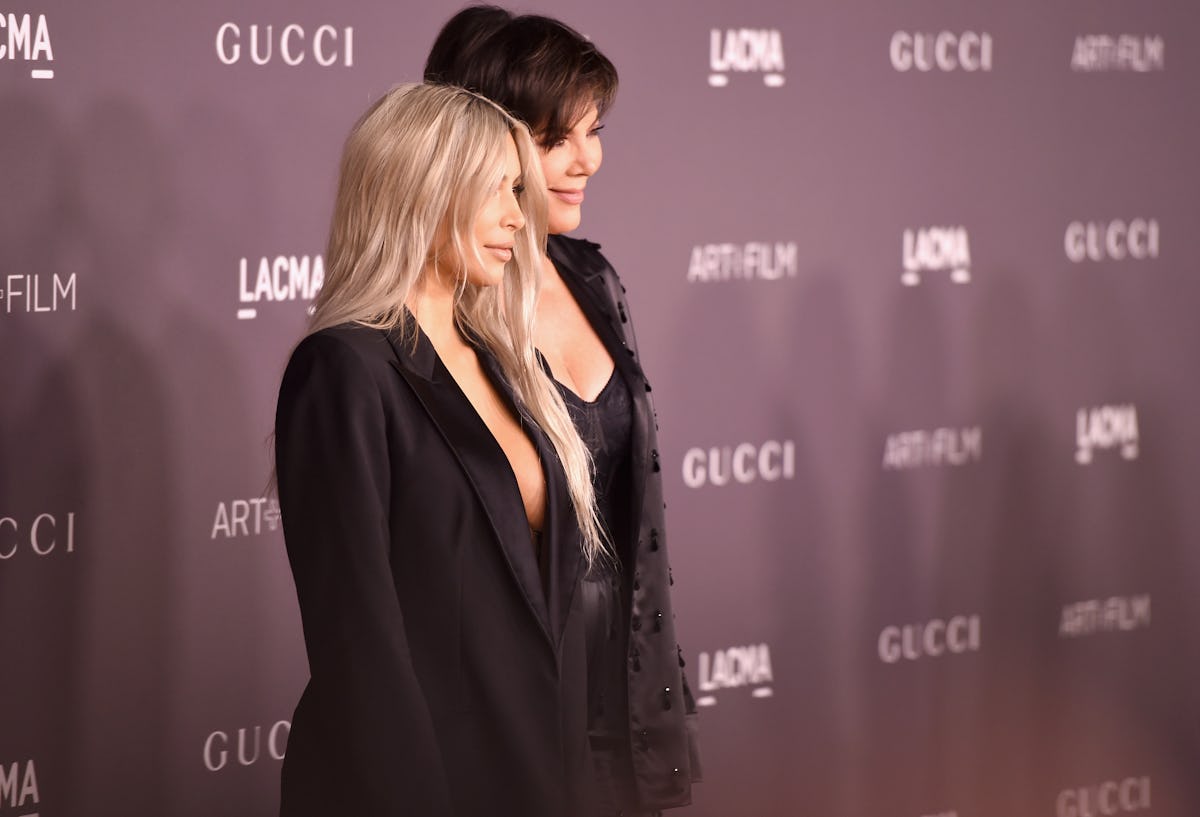 Khloé's Baby Bump Was The Star Of The Kardashian Christmas Eve Party — PHOTOS
Kevin Winter/Getty Images Entertainment/Getty Images
Break out your best duck-faced selfies. The Kardashian Annual Christmas Party, hosted by matriarch Kris Jenner, was held on Christmas Eve in Los Angeles at the Jenner family home, and the celebrity attendance quota was higher than Santa parking his sleigh on the Chrysler Building. Of course, the main focus was the Kardashian Klan themselves, Kim Kardashian West, Kourtney Kardashian, Khloé Kardashian and Kendall Jenner. (Kylie Jenner was mysteriously absent from photos. More on that in a sec.) But the Kardashian Christmas party's photos was none to shabby either.
While the rumor mill went into overdrive at Kylie's absence, both from the party pics and from the annual Kardashian Christmas photos, People Magazine suggested that Kylie really didn't turn up for the party, citing "sources" that claimed she was just wanted a little more privacy during this time in her life.
She feels good, but her body is changing. She doesn't want to be photographed. At the moment, she wants more privacy. She has family and friends come to her house instead so she has company. She's very excited about the baby, though. She talks about the baby nonstop.
ETA: Proof that Kylie was there has surfaced, with a video on Khloé's snapchat where she tells the world she was there, though she's heavily augmented with bunny ears and cartooned eyes, so that it's hard to tell if she's really pregnant or not.
Also absent: Rob Kardashian, whose rocky ending to his relationship with ex-fiancée Blac Chyna earlier this year has kept him laying low.
Despite family members who couldn't make it, the party went on full swing, with Kim and Khloé as the night's MCs, for live performances from such artists as Babyface, Toni Braxton and Brian McKnight. But of course, the real star of the evening, other than the family, was an appearance by Santa. (According to People Magazine, they've hired the same guy to play him for the kids every year since the Kardashian girls were kids.)
Unlike last year, where the proceedings were dominated by an enormous peppermint themed Christmas tree, this year, Kris Jenner opted for something a little more down to earth sized, with a rainbow theme that was both lavish and over the top.
Kim loved the decor this year, talking up her mother's design skills on her website:
My mom's annual Christmas Eve party is probably everyone's favorite night of the year. It's all our closest family and friends celebrating the holidays with a night of food, fun and dancing. Everyone gets glammed up and we have the best time. My mom is the ultimate host and no one comes close to her decorating skills.
So who was on the guest list? Instagram and Snapchat photos show everyone from Scott Disick to Kim K bestie Christina Aguilera. Plus there were shots of Ryan Seacrest (who produces their show on E!), Seacrest's bud Randy Jackson from their Idol days and, of course, Granny Kardashian, M.J. Shannon.
But the biggest hit of the party may have been Khloé's baby bump, which she was shown in snapchat pics as alternately showing off and cradling. Khloé only formally confirmed her pregnancy this past week, with a photograph on Instagram showing off the aforementioned growing belly.
Khloé's baby daddy, Tristan Thompson, gave an emotional response to the confirmed new when it happened. But unlike the significant others of Khloé's sisters Kanye West (Kim's Husband) and Scott Disick (Kourtney's new squeeze) the basketball player was not on hand for the festivities. Why? He unfortunately has to work.
As Khloé posted to her website just after the announcement:
This Christmas, I'll be celebrating early with Tristan in Cleveland since the [Cavaliers] will be on the road.
Despite not having Tristan at her side, it's good to see Khloé having a grand old time and celebrating her transition into motherhood. Merry Christmas to all the Jenners and Kardashians, and next time, invite us too.