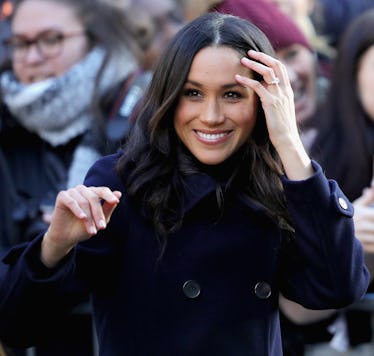 Meghan Markle's First Engagement Ring Was Just As Gorgeous As Her Ring From Prince Harry
Christopher Furlong/Getty Images Entertainment/Getty Images
Meghan Markle and Prince Harry are tying the knot on Saturday, May 19, at St. George's Chapel at Windsor Castle. When their engagement was announced on Monday, Nov. 27, 2017, everyone fell in love with Meghan Markle's engagement ring right away. It's a beautiful ring that pays homage to both their relationship and Princess Diana. Markle was married once before, though, so what was her ring like then? Although there aren't many photos of Meghan Markle's first engagement ring, we were still able to find some and it's gorgeous. I mean, it's no royal family ring with diamonds from Princess Diana's personal jewelry collection, but it's still a beaut.
Markle was married to film producer Trevor Engelson for two years before getting divorced in 2013. They originally met and started dating in 2004 and got engaged in 2010. The couple got married on September 10, 2011, not too long after Markle was cast in Suits. Because of her role in Suits, Markle had to set up camp in Toronto to film the show and had to have a long-distance marriage during her first months as a newlywed as a result. It was that distance that reportedly ended up breaking up the marriage.
But Markle's first engagement ring from Trevor Engelson was stunning.
The ring was one big diamond on a band that was also filled with diamonds because, you know, diamonds. Her wedding bands (she had multiple, which isn't unusual for a lot of women) also had diamonds all around them. The rings seem to be yellow gold, which is what her ring from Prince Harry is also made out of.
In an interview following their engagement announcement, Prince Harry said he designed the ring himself.
The main diamond is from Botswana, the place where they first fell in love, and the surrounding two diamonds are from Princess Diana's jewelry collection. Prince Harry said in the interview,
The ring is — is obviously yellow gold because that's her favorite and the main stone itself I sourced from Botswana and the little diamonds either side are from my mother's jewelry collection to make sure that she's with us on this — on this crazy journey together.
People reports the wedding will begin at 12 p.m. on May 19, which means it will start at 7 a.m. EST in the U.S. Once the ceremony at St. George's Chapel is over, Harry and Meghan will follow tradition and take a carriage ride around the town of Windsor so the public can be more involved in the day's events. Kensington Palace said in a statement, "They hope this short journey will provide an opportunity for more people to come together around Windsor and to enjoy the atmosphere of this special day." Following the carriage ride will be a short break, then a reception attended by friends and family later in the evening. Harry and Meghan will be married by The Archbishop of Canterbury, Justin Welby, and the other parts of the ceremony will be led by David Conner, the Dean of Windsor.
Prince Charles announced their engagement on Monday, Nov. 27, 2017, in a statement that also confirmed they'd be getting married in Spring 2018.
The announcement read,
His Royal Highness The Prince of Wales is delighted to announce the engagement of Prince Harry to Ms. Meghan Markle. The wedding will take place in Spring 2018. Further details about the wedding day will be announced in due course. His Royal Highness and Ms. Markle became engaged in London earlier this month. Prince Harry has informed Her Majesty The Queen and other close members of his family. Prince Harry has also sought and received the blessing of Ms. Markle's parents. The couple will live in Nottingham Cottage at Kensington Palace.
In terms of wedding guests, we can probably expect to see Harry's ex, Chelsy Davy, at the wedding as they've remained close friends after dating on and off for seven years. But don't expect to see Markle's ex-husband there.