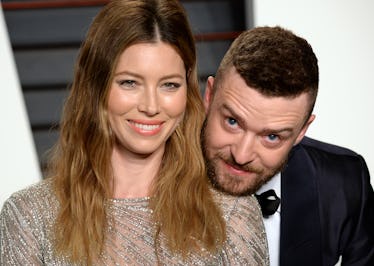 These Photos Of Jessica Biel & Justin Timberlake At The Super Bowl Are So Sweet
Justin Timberlake and Jessica Biel are low-key one of the sweetest couples in Hollywood. They live a pretty relaxed life and spend a lot of time out of the spotlight with their two-year-old son, Silas — so whenever they do get caught on camera, it's always a treat. As these photos of Justin Timberlake and Jessica Biel at the Super Bowl LII prove, there's a lot of love between this power couple.
Timberlake and Biel are at the big game in Minneapolis, Minnesota because he performed at the Pepsi halftime show. The 37-year-old singer showed off the highlights of his decades-spanning career. While '90s fans were pining for NSYNC reunion, JT wound up showcasing his solo work. He also made a tribute to Prince (minus that rumored hologram of the late singer).
The timing of Timberlake's performance is especially relevant considering that he dropped his fourth solo studio album, Man of the Woods, on Feb. 2. Sure enough, Timberlake performed "Filthy" from his newest album, alongside classics like "SexyBack," Mirrors," "Rock Your Body," and "Cry Me A River."
Timberlake had a blast performing in a camo suit.
Timberlake shared a pre-game selfie.
His humblebrag caption? "Lazy Sunday. #SBLII." So casual. Yes, my lazy Sundays look exactly like that, too — a chill medley of '90s, '00s, and '10s pop songs on live television in front of hordes of adoring fans. (Who am I kidding? On Sundays, I don't even change out of my pajamas.)
So did Biel.
She bit into a football-shaped cookie while wearing a hat embroidered with the word "Solidarity."
Husband and wife posed together for a sweet pre-game selfie.
These shots were actually taken at the U.S. Bank Stadium but prior to the Super Bowl — possibly during a rehearsal.
In photos from the day before the Super Bowl, Timberlake could be seen in a blue sweatshirt and red beanie squatting on the field besides Biel, also clad in a sweater and beanie. Their son Silas ran across the field, wearing black overalls, a white t-shirt, and an orange beanie.
The littlest Timberlake also held his dad's hand and sat in his mom's lap. What a cute kid! (For the record, you actually hear Silas featured on Timberlake's new album Man of the Woods. The album's last song, "Young Man," features a child saying, "I love you, Daddy" — that's legit Silas.)
Timberlake turned 37 earlier this week on Jan. 31, and Biel wrote a note on Instagram that oozed with pride and support. She shared a photo of them embracing with a caption that read:
A picture says a thousand words. And thank goodness because there aren't enough to express ALL the aspects of my love and respect for you.Here's to a spectacular year ahead. I'm so proud of all you've accomplished and all that is ahead for you. plus you're a super hot dad. A ninja dad. A kiddie teeth brushing, Jedi sleep mind tricking, intimidating dad voice disciplining SUPER HOT DAD. I love you, you hot dad.. I'm here, right by your side, OG fan girl #1. Happy birthday, my beloved. Now go crush it this weekend at SB LII.
A birthday, an album, a halftime show at the Super Bowl, and major kudos about his parenting skills? And hotness? Boy, JT is having a good week.
In case you forgot, Timberlake and Biel began dating in January 2007. They got engaged in December 2011 and got married in October 2012 in Italy. Their son was born in April 2015. And just so you know, Super Bowl or no, they always look ridiculously perfect together.
Going to the Golden Globes together? So gorgeous.
Doing the whole matching family Halloween costumes thing? Adorable.
Goofing off together after the Oscars? Priceless.
The Timberlake-Biel family love runs strong. Congrats to the whole fam on what's sure to be an amazing halftime show!