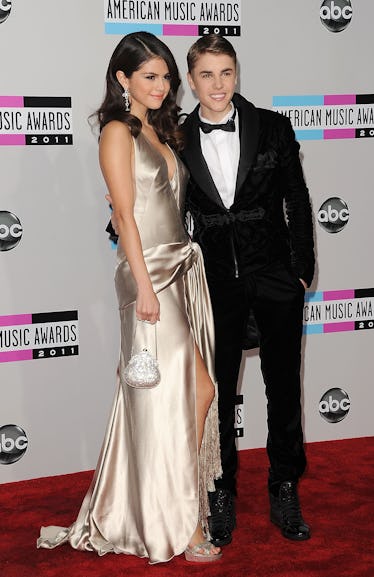 A Fan Took A Candid Photo Of Selena Gomez & Justin Bieber On A Date & It's The Cutest
Jason Merritt/TERM/Getty Images Entertainment/Getty Images
Jelena lovers, rejoice. There has been another Justin Bieber and Selena Gomez sighting, and it's getting fans so, so excited. The most interesting part about the recent picture of the potential couple is that it was randomly snapped by a fan. The newest photo of Selena Gomez and Justin Bieber is ridiculously low-key, but it's giving people so much hope.
Let's break down all the things Gomez and Bieber have been spotted doing: hanging out at each other's homes, going to church, having lunch, and riding bikes. Now, we can add romantic walks to the list. On Nov. 13, a fan tweeted a picture of Gomez and Bieber after running into them on (what looks like) a lovely trail near a pond. Honestly, the setting is serene AF. Gomez looks straight out of her "Fetish" music video in a floral, below-the-knee dress with white sneakers. She paired her look with a denim jacket — perfect for a charming walk.
The Biebs was also looking super comfy in his typical athleisure — black track pants, graphic tee, and sneakers. Overall, it looked like a very cute time.
You can definitely see in the photo how excited the fan was about the sighting. Like, they legit just sprinted up and forgot how to use their camera. BUT THANK YOU FOR CAPTURING THE MOMENT.
Honestly, these low-key hangouts are probably happening all the time right under our noses. A source told People that Bieber and Gomez are trying to take things slow, but it's difficult because Bieber is "too excited" to hang out with her. Justin Bieber being obsessed with you and wanting to chill all the time? Ugh, so annoying, right? JUSTIN, I'M JUST FRONTING, DM ME. The source said,
Justin is doing great. Spending all week with Selena is the dream week for him. He is trying to take things slowly, but it hasn't really worked. He is too excited to spend time with her.
Adorbs. The source continued,
He is waiting for Selena to tell him that they are officially back together. He doesn't feel any rush, because no doubt they are already emotionally back together. Justin still needs to win her family over and he realizes it will take some time. But he very much feels he is a different person.
It's been almost three years since Gomez and Bieber officially broke up. Since then, the two have dated different people and made huge strides in their careers. I would say growth definitely happened so things between them could be different now... in a good way. Of course, fans are here for it.
The two reconnected after Gomez underwent a kidney transplant due to her ongoing battle with lupus, which she announced in an Instagram post, and the Biebs reportedly reached out to his famous ex. Apparently the two attend the same church and have reconnected by way of their faith as well.
According to recent reports, Bieber has been over-the-moon happy about rekindling with Gomez.
In a different People article, a source explained that Bieber hasn't been able to find anyone who quite measured up to the "Wolves" songstress. Don't get me wrong, Hailey Baldwin and Sofia Richie seems like great gals, but it's a tall order to try and become the new Jelena. The source said,
Spending time together makes them both very happy. For Justin, no one ever came close to comparing to Selena. He always thought she was the most special and now seems mature enough to realize Selena deserves the best.
The source went on to say that Bieber was Gomez's first love,
Justin was Selena's first love. He will always have a special place in her heart. She's always held out hope that one day the circumstances and timing would be right.
I know some fans are still skeptical that Jelena's reunion right on the heels of Gomez's breakup with The Weeknd could be a publicity stunt. We probably won't know for sure until we get an official confirmation from Gomez or Bieber. However, if there's not one tiny part of you that wants to see Jelena back together... why not?
Check out the entire Gen Why series and other videos on Facebook and the Bustle app across Apple TV, Roku, and Amazon Fire TV.