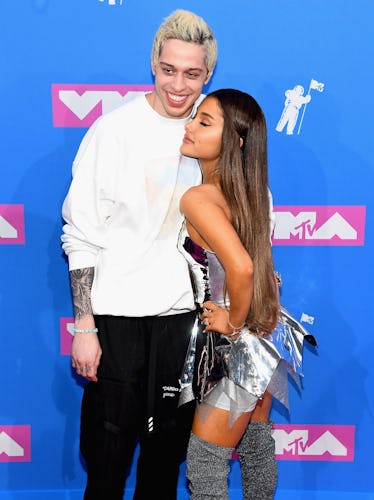 Pete Davidson Just Revealed The One Bad Thing About Dating Ariana Grande
Nicholas Hunt/Getty Images Entertainment/Getty Images
Pete Davidson has been nothing but open and honest about his obsession with his fiancé Ariana Grande. The unlikely pair blasted into fans' stratospheres in mid-summer 2018 and quickly spiraled into one of pop culture's most publicized couples. Fans are nothing short of obsessed. Both Davidson and Grande proclaim their undying love for one another via interviews, social media, or otherwise all of the time, so fans expected nothing less when Davidson popped by The Howard Stern Show. Imagine how surprised they were when he mentioned a downside to dating this music queen!!! Pete Davidson's comments about the downside of dating Ariana Grande are fully understandable, but surprising nonetheless.
To be fair, one could argue Grande's exposure was ten times that of Davidson's prior to their courtship. While comedy nerds and Saturday Night Live fans might have followed his whereabouts, Grande's fanbase was (and is) full of serious, outspoken, hardcore fanatics. When Grande and Davidson publicly announced their relationship, Davidson needed to brace himself. The onslaught of opinions, trolls, tweets, comments, posts, and feedback was swift and forceful, and ultimately pushed Davidson off of social media for a while. Around that time, sources told People magazine he simply "didn't want drama." On Monday, Sept. 24, Davidson admitted to Howard Stern the extreme exposure is the one "downside" to his blissful relationship.
Being followed by paparazzi isn't really Davidson's thing, and according to the SNL star, he finds it to be the "worst" part of his new life. But, it's ultimately worth it to be with Grande. He told Stern, "I told [Ariana] this is the worst, but if I get to be with you I'm a very lucky guy."
With the exception of the constant prying public presence, everything else about dating Grande is too good to be true for Davidson. He described to Stern what she is really like behind closed doors and explained she's actually the opposite of a diva. "You have no idea how funny she is," he said. "She has a sense of humor like us, which is how I describe it to my friends."
Davidson continued, "She's very protective of herself and carries herself very well... We generally just love being around each other." Davidson also explained Grande is super supportive of him and his career, and described one time when she came to visit him on set of his upcoming movie, Big Time Adolescence, in Syracuse, New York. "I was shooting this movie in Syracuse, you know, trash, and the nicest hotel is like a Ramada," he shared. "She came and hung out for like a month."
While the final interview with Stern was not available at the time of publication, fans will be relieved to hear all is well between Davidson and Grande. Following the unexpected death of Grande's ex-boyfriend, Mac Miller, representatives for the "God Is A Woman" singer said in a statement, "Given the events of the past couple of years, Ariana is going to take some much needed time to heal and mend. She will be staying close to home and using this period to spend time with her loved ones and work on new music without deadline. She thanks her fans for their understanding."
Fortunately, she and Davidson are going strong and have one another to lean on through this exhausting time.