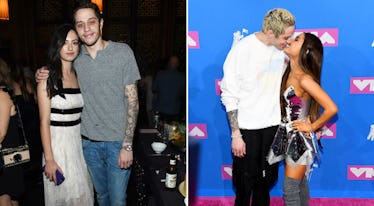 Pete Davidson & Cazzie David's Body Language Compared With Ariana Grande Is So Different
Jamie McCarthy/ Nicholas Hunt/Getty Images
You honestly haven't lived until you've spent way too much of your personal time trying to understand the personal decisions that celebrities make. Sure, it's not really any of my business, but I still find celebrity relationships fascinating, especially when they become an engagement seemingly overnight. Obviously, I'm talking about Ariana Grande and Pete Davidson. But, before those two got together, Davidson was with someone else, and that's why I asked an expert to analyze Pete Davidson and Cazzie David's body language compared to Ariana Grande and Davidson's now.
Unless you've been living under a rock since May, you probably witnessed the rapid rise of Grandavidson. But here's the lowdown, ICYMI: Davidson and David dated for about two years, starting in 2016. They seemed super in love and shared quite a few adorable photos together on social media. Suddenly, in May 2018, Davison announced that they had broken up, and just a few days later, rumors began to surface that he was dating Ariana Grande (who had just announced her split from late rapper, Mac Miller). After dating for a few weeks and before even verbally confirming their relationship, Grande and Davison got engaged. It was a lot.
So, what does a body language expert have to say about all of this? Well, as it turns out, "Pete couldn't be more different with each girl," body language expert Traci Brown, author of Persuasion Point, tells Elite Daily. "He's way more passionate with Ariana."