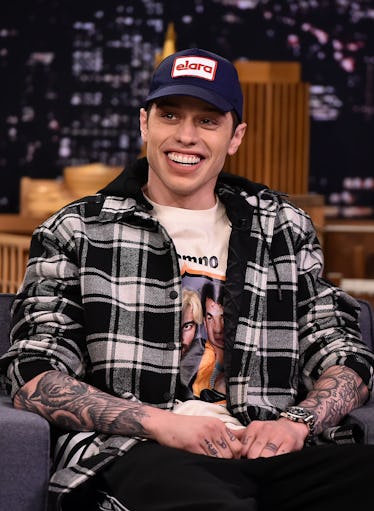 Pete Davidson Just Gave Even More Insight Into His Breakup With Cazzie David
Theo Wargo/Getty Images Entertainment/Getty Images
Pete Davidson is opening up, once again, about the monumental year he's had. Between his breakup with longtime girlfriend Cazzie David and his engagement to Ariana Grande, Davidson has had a more eventful 2018 than most other people his age. And in an interview with Howard Stern, Davidson talked about it all, including his headline-making split with David. Actually, Pete Davidson's comments about his breakup with Cazzie David are really mature. In his mind, his breakup with David and his relationship with Grande were timed just right.
Davidson and Grande apparently started seeing each other at a time when both were grappling with difficult breakups. Davidson and his ex David broke things off in mid-May 2018. Grande split from her ex Mac Miller just a week earlier. So, the timing for Grande and Davidson couldn't have been better and Davidson said as much during his interview with Stern.
"Timing, I feel like, is everything and we both were in a similar situation at the same time," Davidson said.
To follow up on that, Davidson continued to explain his belief that some people are just "meant to be together." From his point of view, he and Grande are meant to be despite the fact that their exes were good people.
"I just think some people are meant to be together and some people aren't, even if they are good people or not," he said. "Some people just aren't good in relationships together. And I just think she's — we're supposed to be together."
And to Davidson, nothing proves that more than Grande's total acceptance of him as a human being. Davidson was so dumbfounded by Grande's interest in him that he made absolutely certain that she actually wanted to be with him.
"Before we started dating, I literally like went through a list, I scrolled through a list of really hot guys on the internet and I was like, 'Wait a minute, are you sure?'" Davidson told Stern. "Like here's all of One Direction, I was like you sure? I was like this guy? Alright. OK cool."
Here's a look at Davidson's interview with Howard Stern:
Grande and Davidson started dating in May 2018, shortly after their breakups. Just a few weeks after that, in June 2018, the two got engaged. And that, according to Davidson, has given some fans pause, so much so that he's received death threats for having snagged Grande all for himself.
"Yeah I got a death threat," Davidson revealed during his interview. "Someone wanted to shoot me in the face, because she's so hot."
In addition to talking about his relationship, Davidson also opened up about living with Borderline Personality Disorder. In talking to Stern, Davidson said living with BPD was especially difficult right before he started dating Grande.
"It was a rough time. It was an assortment of things, an assortment of sh*t I would say … It was a sh*tty pie I was eating," he said.
In spite of that, it looks like Davidson has found a relatively happy balance in his relationship with Grande. No doubt she supports him 100 percent. I love those two together!