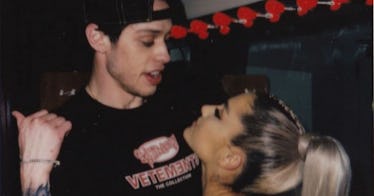 Pete Davidson Wants To Be Ariana Grande's Backup Dancer Based On His New LOL Instagram Post
Instagram/PeteDavidson
I know that Justin Bieber and Hailey Baldwin's engagement made us forget about Ariana Grande and Pete Davidson for a hot minute, but I think it's time we shift the focus back on to the original couple who had a quickie engagement. So for all of you Jailey fans out there, please take a back seat so that those who ship Ariana and Pete can move on up to the front. We've been following their budding relationship and engagement for well over a month now and, whether you like it or not, these two are seemingly as in love as ever. Whether they are gushing about each other on social media or celebrating relationship milestones, it's pretty obvious that they're very into each other. They seem to try to integrate the other person into nearly everything they do, which is all sorts of adorable, and let me tell you: Pete Davidson and Ariana Grande's photos with her backup dancers will only make you love these two even more.
So, in case you didn't know, Ariana Grande is a pretty well-known singer who not only makes iconic and legendary music, but tours around the world performing. And apparently, her fiancé is hoping to get in on the action, taking to Instagram to show off his backup-dance-crew ~skillz~ with the dancers that perform with Grande.
In the early morning hours of July 12, Pete Davidson posted not one, but two glorious photos of himself with Ariana Grande's backup dancers — the first, a moody black-and-white picture where Davidson is posing in the middle, surrounded by really, really, ridiculously good-looking men, captioned, "check out my new job":
He sort of fits right in, to be completely honest.
The second image, though, is my new favorite picture of all time. It's a similar picture, showing Davidson along with the backup dancers, but in this image, our girl Ariana is front and center, looking like she's mid-twerk on top of Davidson. It sounds sort of raunchy in theory, but the photo itself is actually hilarious and adorable AF:
COME ON, you can't tell me that this isn't a perfect photo! And if you don't agree with me, I know you're lying, so.
Plus, we've seen Pete Davidson and Ariana Grande trying out a dance move together just a few short weeks ago, so maybe Davidson is simply working on his moves to impress his lady.
On Thursday, June 28, Ariana Grande posted a video to Instagram that showed her dancing around and acting silly, but a few seconds in, we see her with Davidson trying to test out some kind of swing dance move. The move itself could have absolutely wound up with Grande needing a trip to the emergency room for a dislocated joint, but thankfully, nothing went wrong.
In the video, you hear Davidson say, "Wow, that could have went very bad!," and he's honestly not wrong, but our girl trusted her man, and it looks like it paid off in the end.
Say what you want about these two, but it's clear that they have a bond that's pretty unbreakable, and they just make each other happy. Back on June 20, when Davidson went on The Tonight Show with Jimmy Fallon and confirmed his engagement to Ariana Grande, Fallon said to Davidson that he didn't have to go and get engaged to Ariana Grande just to come on to the show. Davidson said, "But I did, though," adding, "I feel like I won a contest. So sick. It's f*cking lit, Jimmy."
D'awww! Let's hope we all find someone who makes us feel as lit as Pete Davidson feels being engaged to Ariana Grande.