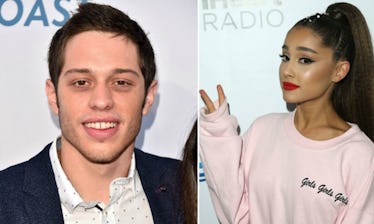 This Video Of Ariana Grande & Pete Davidson Attempting A Dangerous Dance Move Is So Thrilling
ALBERTO E. RODRIGUEZ/GETTY IMAGES ENTERTAINMENT/GETTY IMAGES | JESSE GRANT/GETTY IMAGES ENTERTAINMENT/GETTY IMAGES
Could Ariana Grande and Pete Davidson be rehearsing some dance moves for their future wedding? Well, if Grande's new Instagram post is any indication, they could actually be doing just that. And you know what? They actually don't look so bad doing it. But they might need some pointers from the real dancing pros because things got a little hairy while they were practicing their moves. And you can definitely see that in the Instagram video of Ariana Grande and Pete Davidson dancing.
So, what happened? Basically, Grande and Davidson were being kind of silly, clowning around and practicing some dance moves. But they decided to up the ante a little and give their dancing a bit of a twist. Well, that resulted in a super risky situation that could have resulted in a broken bone or two.
Thankfully, nothing went wrong and they stopped while they were ahead. Even Davidson was startled by it.
"Wow, that could have went very bad," he says in the video.
But Grande was all laughs and smiles nonetheless.
All in all, the video is just a bit of fun. Grande can be seen having a great time with some pals at one point in the video. And Davidson is right there to cheer her on. So, it's all good.
Here's a look at the video Grande posted to Instagram on Thursday, June 28:
Fans of the couple obviously loved the video and were definitely showing it. In just a few hours, Grande's Instagram video got nearly a million likes and countless comments.
Actually, fans were going wild in the comments. They're so excited to see their queen happy and in love that they just can't keep it to themselves.
One fan was super enthusiastic about the video:
happiness looks good on u. I love u so so so so muchhhhh!!! miss u my heaaart so much! LOVE U FOREVER AND EVER I PROMISE U!💞💞💞💞💞💞💞💞💞💞💞💞💞💞💞💞
Another fan encouraged Grande and Davidson to ignore the haters (which they already seem to do anyway!):
@arianagrande I am so happy for you and @petedavidson ! Makes my heart so happy 😘don't listen to the salty haters 😜
And someone else was super confused by the video, but loved it anyway:
What is even happening here @arianagrande @petedavidson ?? I love whatever it is. Your vibe is happy!
Grande and Davidson's latest display of love comes just a few days after Grande celebrated her 25th birthday on June 26. For the special day, Grande posted a handful of photos and videos of herself as a little baby which are super adorable.
Here's a look at her sweet baby picture:
And there's an adorable video to boot:
Who'd have though that this cute little kid would grow up to be a superstar, right?
As expected, Davidson also took to Instagram to wish his lady love a happy birthday. He posted this photo of the two of them:
And he also wrote this sweet message:
happy birthday to the most precious angel on earth! you're my favorite person that ever existed :) i love you sm ☁️⚡️😍
Never one to keep his passions to himself, Davidson also posted another photo of himself and Grande together:
That post, too, came with a really cute caption:
one more for the queen. words can't express what a real f--king treasure this one is 👑
So sweet! Grande and Davidson seem like they're totally smitten with one another. Now, if they could just get their dance moves in check, there'd be nothing to worry about! Hopefully, they'll get it all down pat by the time they get married... whenever that is.