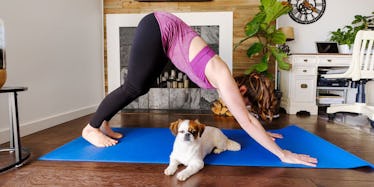 People Who Aren't Flexible Always Deal With These 6 Struggles When They Work Out
If you love to workout out on the reg, you probably savor the rush of feel-good endorphins and good vibes that your daily sweat sesh provides you with. But, as good as hitting the gym may make you feel, it's what comes after the workout that is totally cringe worthy for some. People who aren't flexible literally dread setting time aside for that post-workout stretch — because as important as it is to keep your muscles happy and injury free, it's honestly just painful AF (and you try to weasel your way out of it as often as possible, let's be real).
The thing is, as much as you try to convince yourself it's not, stretching is a pretty imperative part to working out. According to Harvard Health, maintaining some degree of flexibility through stretching keeps your muscles strong, healthy, and able to carry you through challenging exercise sessions with ease. Without consistent stretching, however, the muscles become tight and shortened which puts you at a risk of pesky strains and injuries. Not a fun time, friends.
Now, all of this doesn't mean you need to be able to touch your toes on demand or have the ability to contort yourself into the equivalent of a human pretzel — not at all. But inflexible peeps shy away from even the mere thought of a low key hamstring or hip flexor stretch after a run. Trust me, you guys, I know. I, too, have been a ~stretching hater~ myself in a past life.
If you consider yourself inflexible, you probably deal with these six things all the time when you workout. But at least you can complain about them with your other non-flexible friends: stretching haters, unite.