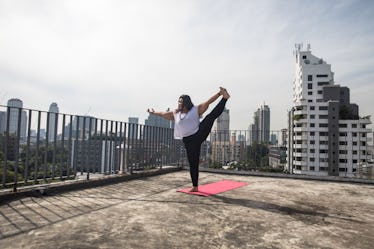 Here's What You've Been Getting Wrong All This Time About What It Takes To Be Flexible
When you see a flexible person in a pretzel-like pose, it looks awesome AF, and you probably wish you, too, could become a human version of a salted and twisty carbohydrate. But what might immediately go through your mind after you see someone who's super flexible, is something along the lines of, "LOL, I can't even touch my toes," or you might just assume the person had to have been "born flexible," whatever that even means. If this rings a bell, then you, my friend, have likely bought into one of the many myths about flexibility that actually aren't true at all. To set the record straight once and for all, anyone can be flexible — with a little patience, and a lot of practice.
Astrid Swan, personal trainer and Premier Protein ambassador, believes everyone has the potential to be as flexible as they want to be — as long as they're willing to work at it — and that the skill is actually more important than people realize for going about normal, day-to-day activities. "We need flexibility to do simple, daily tasks, like getting out of a car, picking up something from the floor, reaching over our heads," Swan tells Elite Daily. "What happens as we get older is we end up in jobs that keep us stationary, which means our muscles get stiff and the joint mobility range lessons. Flexibility comes with staying active and continuing to stretch."
If you really want to start reaping the benefits of flexibility, Swan recommends working on it every day in some capacity, even if all you have time for some days is a quick, five-minute stretch.
But for now, let's debunk some of the flexibility myths that might be holding you back from beginning your journey toward becoming a bendier human.