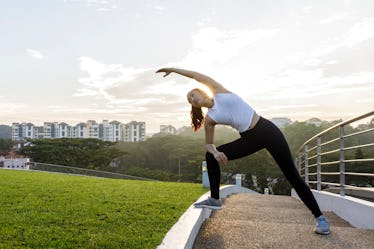 If Your Muscles Are Tight AF After Running, These 5 Yoga Poses Will Loosen You Up
Runners know better than anyone how uncomfortable tight muscles can be. If you love running, then you probably can't even imagine life without that endorphin-infused runners' high. But, as much as you love your head-clearing, daily jogs, those hip flexors need to loosen up somehow. If you've never tried it before, adding a few yoga poses for runners into your cool-down routine might just provide you with the sweet relief your body's been craving.
The reason why you should consider doing a few bendy yoga poses after your run (rather than before) is because these bad boys are considered static stretches — aka positions that you hold for anywhere from 10 seconds to a minute, to lengthen your muscles and increase flexibility. According to Competitor.com, static stretches are best done after your cardio sesh because your muscles are warm and lubricated, so there's a significantly lower chance that you'll pull anything or injure yourself.
By including a few yoga poses that mimic static stretching into your post-run routine, you'll improve your range of motion and help your muscles feel restored and ready to go for your next lap around the block.
When your muscles feel tight AF after your next run, loose up with these five relaxing yoga poses.