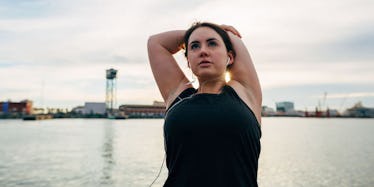 The Best Stretches For Flexibility Will Benefit Your Body From Head To Toe
In college, I was in love with running. The satisfying challenge and feel-good endorphins that pounding the pavement provided me with were my absolute favorite. However, after entering half-marathon after half-marathon, I realized my muscles were so freaking tight that I had the flexibility of a flight reservation with a hefty rebooking fee. So, I began including stretches for flexibility into my daily routine in hopes that someday I would be able to accomplish the seemingly unachievable: touching my toes.
Flash forward a few years, and I'm a certified yoga teacher who enjoys routinely contorting herself into a pretzel. Miracles do happen, people! Except, it wasn't a miracle at all. It was just a whole lot of dedication to stretching my absurdly tense muscles on the reg.
If you have a goal of your own to become bendier, but everything from your outdoor runs, to your desk job, to that dreaded case of "text neck" (that plagues pretty much everyone with an iPhone) seem to be getting in the way, there are actually some pretty simple stretches you can regularly incorporate into your routine. Focusing on lengthening these five muscle groups will have you on your way to loosening up and lengthening out in no time.