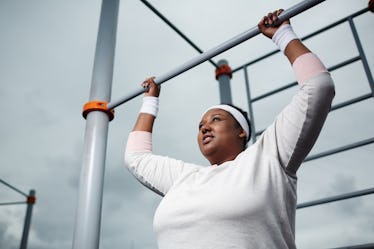 10 Fitness Goals To Set In 2018 That Have Nothing To Do With Weight Loss
Shutterstock
The new year is an amazing time to start fresh and set new goals for yourself, especially for how you treat your body. Unfortunately, too many social media influencers and cultural standards lead us to believe that weight loss and fitness automatically go hand-in-hand, when in reality, that couldn't be further from the truth. Instead of buying into all of the diet culture BS, remind yourself that there are so many fitness goals you can set for yourself in 2018 that have absolutely nothing at all to do with the scale, and will make you feel strong AF, both physically and mentally.
Finding ways to weave mindful, feel-good movement into your life is so much more powerful than relying on a meaningless number on an electronic piece of crap. Repeat after me: The scale literally means nothing when it comes to your internal happiness and overall state of well being.
Take advantage of the clean slate that is 2018 to set realistic, sustainable, and challenging fitness goals, without giving even a single thought to the idea of weight loss or dieting. Focus on goals that make you work on your strength, that make you feel beautiful from the inside out, that will make you feel genuinely accomplished when you achieve them.
If you need a little help brainstorming, here are 10 fitness goals that'll help you fall in love with working out and how it makes you feel.