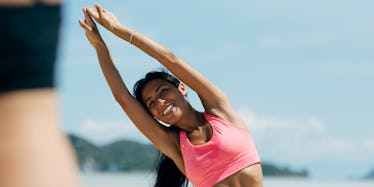 7 Motivational Tips To Help Make Your New Year's Fitness Goals Stick
Michael Phelps didn't become an Olympian gold medalist overnight. His fitness achievements were reached through hard work, dedication and motivation.
While most of us aren't striving to become elite athletes in the near future, we all begin our fitness journeys with a similar goal in mind: a conscious choice for self-improvement.
We're all familiar with the struggle of taking on a new workout routine. However, let's try something different this time.
Before you get ahead of yourself, start with what your body can handle. Make it your New Year's resolution to accomplish a fitness goal.
Here are seven tips to help keep you motivated, in order to fulfill your New Year's resolutions:
1. Set yourself up for success.
First things first: Be prepared with everything you need to kill your new workout.
Find a gym, running course or studio you want to try out, and have a detailed plan of attack.
Then, make sure you have all the necessary items you need in order to get the most out of every workout.
Whether what you "need" is an insulated water bottle or a new workout outfit, these small incentives will motivate you to confidently master any exercise.
It's also important to ensure you get a quality night's sleep.
2. Create a fitness calendar.
Set yourself up for success from the get go.
Buy yourself a calendar or journal to plan out your weekly exercises and fitness goals. Having a schedule will help you stay on track, even when your motivation starts to fade.
Use a journal to write down goals and details regarding your workouts and meal plans.
When times get tough and you feel like throwing in the towel, refer to the first week of your journey and reflect on all of the progress you've made since.
When February hits and the pressure of fulfilling your New Year's resolution starts to fade away, this journal will be great motivation to keep going.
3. Visualize your goals.
One of the best ways to achieve a goal is to visualize it every single day.
Whether you make a dream board or keep an encouraging note on your fridge, make sure you have positive reinforcements around you throughout your day.
If your goal is to lose 10 pounds by the end of the year, keep a note of your progress and check off each pound you lose.
This small action will have you celebrating even the smallest wins, which will bring you one step closer to your goal.
4. Switch up your workouts.
Unless you're training for a marathon or a specialty sporting competition, doing the same boring workouts can seriously drain your motivation.
An easy solution to this is adding diversity to your workouts.
Whether you choose to exercise within the convenience of your home by streaming online workouts or trying a variety of exercise classes like spin, find a few workouts that best suit your body.
5. Find a workout routine you love.
Whether you become a boxing fanatic, cycling master or yogi guru, find a few exercises you're truly passionate about.
Yoga today and cycling tomorrow? No problem.
Once you've found your personalized niche, you'll start to enjoy your workout. Before you know it, your favorite workout classes will transform from dreaded chores to hobbies.
6. Get a workout buddy.
You don't have to tackle this journey on your own. Grab one of your besties and encourage him or her to make a workout goal for the new year, too.
It's a lot easier to accomplish your goals with some extra support.
It's easy to press snooze on your alarm and sleep through your early morning workout class. But if someone is attending the class with you, you'll be less likely to sleep through it.
7. Make fitness a way of life.
Don't just set temporary weight loss goals for an upcoming high school reunion or a friend's wedding. More likely than not, once the event is over, you'll fall back into your old habits.
It's important to continually set new goals, both short-term and long-term.
Start developing healthy eating habits to complement your workouts, so you can fuel your body with nutrients.
When all aspects of your life evolve in a healthier direction, your fitness goals and overall health will be complete.
We all have a million excuses to neglect our workouts, but none of them are as important as our personal health.
By incorporating the seven tips from above, you'll be ready to take on any workout regimen for a healthier you.
Lace up those running shoes or roll out that yoga mat: Now's the perfect time to challenge yourself to a new workout routine.