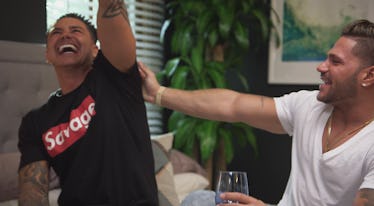 Pauly D Revealed What He Knows About Whether Ronnie & Jen Are Together Or Not
MTV
Even Ronnie's Jersey Shore Family Vacation castmates can't keep up with his rollercoaster relationship with on-again, off-again girlfriend Jen. In the premiere episode of the second season of Family Vacation, Pauly D, Vinny, and Mike tried to talk to Ronnie about his abrupt Instagram war with Jen, but didn't receive any real response. Now, Pauly D is further clarifying how much he knows about Ronnie's perplexing personal life these days, and Pauly D's comments on Ronnie and Jen's relationship show that he is in the same boat as the rest of us.
The Jersey Shore Family Vacation star told People at the Marriage Boot Camp Reality Stars party on Aug. 28 that he has to check Ronnie's Instagram stories to see if his co-star is still in a relationship or not, and then will usually text him to be sure he's okay. Pauly D also revealed that he has no clue things had gotten so bad between Ronnie and Jen before he actually met up with them in Las Vegas for Season 2:
No, I had no idea. I didn't think it was going to get that volatile at all, but he takes to social media. I keep up with him through his Instagram story. He tells how he feels, that's how I know. If he's single, I know it, if he's taken, that's how I know. I hit him up like, 'You good?' before my way over here. I wanted to see the status, they seem good.
So, it also sounds like Ronnie and Jen are back together now. It has not been easy to keep up with their relationship status. Throughout the first season of Jersey Shore Family Vacation, Ronnie continually expressed his apprehension about having a baby with Jen, revealing that he does not trust her because she cheated on him before. As that season was airing, Jen gave birth to her and Ronnie's daughter, Ariana Sky. Just days after Ariana was born, Ronnie and Jen engaged in a vicious fight on social media that ended in the couple breaking up. Elite Daily reached out to Ronnie's team for comment on the social media fight but did not hear back by the time of publication.
The drama continued a couple months later, when Jen was arrested on June 28 on charges of alleged domestic battery after reportedly dragging Ronnie with her car, as reported by TMZ. Elite Daily reached out to Ronnie's team for comment on the alleged altercation and arrest but did not hear back by the time of publication. Jen was released from custody shortly after her arrest, and then just a couple of days later, she and Ronnie were taking kissy-faced selfies together on the Fourth of July, sparking reunion rumors. Since then, the couple's Instagram accounts show that they have been chilling in Puerto Rico together with Ariana Sky, and E! Online reported that Ronnie and Jen are officially back together earlier this month.
Whew! After all of that, you can't really blame Pauly D for feeling lost in the Ronnie-Jen whirlwind. Although social media seems to be the only way to keep up with the couple, Pauly D said that his advice to Ronnie was to stay off Instagram, because it seems to only get him in trouble. I have a feeling that Ronnie is not going to listen to Pauly D's words of wisdom, though.