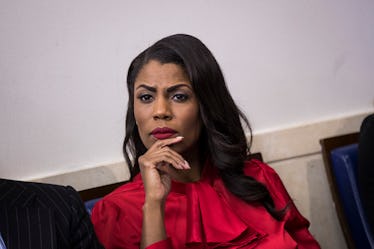 Omarosa Manigault May Have Secretly Recorded Donald Trump, So I Bet He's Thrilled
Drew Angerer/Getty Images News/Getty Images
Well, 2018 may officially be year of "save the receipts," especially for Donald Trump. Just when we thought things couldn't get any more heated for the current United States leader, we find out that Omarosa Manigault secretly recorded Donald Trump during their conversations, according to reports. Woo boy, here we go.
On Aug. 9, The Daily Beast reported that former White House Director of Communications for the Office of Public Liaison Omarosa Manigault apparently secretly recorded her and President Donald Trump's private conversations, and has tapes to prove it. Elite Daily reached out to the White House for comment about the reported tapes, but did not hear back in time for publication.
It's been rumored for months that Manigault might own tapes of her and Trump's interactions, but sources told The Daily Beast that the former Apprentice contestant is allegedly using the tapes as leverage for her upcoming "tell-all" book UNHINGED. Publisher Simon & Schuster, which is spearheading the book release, and released a statement to The Daily Beast on Aug. 9 about the reports. The statement read,
Without commenting on the specific contents of UNHINGED, we are confident that Omarosa Manigault Newman can substantiate her highly-anticipated account of life inside the Trump White House.
Manigault has yet to confirm the existence of these tapes or what may be on them, but Trump probably isn't too happy. These reports are eerily reminiscent of a July report that said Donald Trump's former attorney Michael Cohen recorded a September 2016 conversation between them discussing the possible payoff for Karen McDougal, a former PlayBoy model who claims she had a 10-month affair with Trump in 2006. Trump, along with the White House, have denied that an affair ever took place. Trump's lawyer Rudy Giuliani did, however, appear to confirm the tapes, saying at the time that the tapes were "powerful exculpatory evidence" for the president.
Once reports of the recorded conversation between Trump and Cohen surfaced, everyone was eagerly awaiting Donald Trump's response to the breach of trust. Well, in classic Trump fashion, the president took to Twitter on July 25 to share his thoughts on the matter. According to Trump, we unfortunately missed out on all the "positive things" he also had to share. He wrote,
What kind of a lawyer would tape a client? So sad! Is this a first, never heard of it before? Why was the tape so abruptly terminated (cut) while I was presumably saying positive things? I hear there are other clients and many reporters that are taped - can this be so? Too bad!
In April, the FBI raided Michael Cohen's office in search of files about the Stormy Daniels case, an adult film actress who Cohen paid $130,000 to sign a non-disclosure agreement about an alleged affair with Donald Trump, which Trump has consistently denied happened. In February, Cohen admitted to paying Daniels, but said in a statement that Trump did not know about it, characterizing it as a "private transaction." Trump initially denied all knowledge of the payment, but in early May, Giuliani claimed to Sean Hannity of Fox News that Trump had reimbursed Cohen for the payment.
Donald Trump certainly hasn't had the best track record with audio the past few years. We can only wait and see if Omarosa cashes in on those alleged tapes. In the meantime, I'll stick to my podcasts.