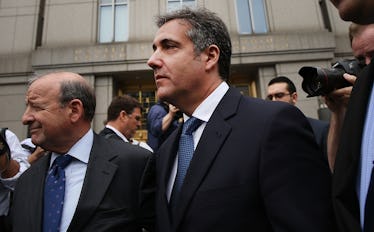 The FBI Apparently Has The Tape Of Trump & Cohen Discussing A 2016 Payoff
Spencer Platt/Getty Images News/Getty Images
The New York Times reported Friday, July 20 that investigators reportedly are in possession of a recording of a discussion between President Donald Trump and his personal attorney Michael Cohen prior to the 2016 election. In the tape, Trump and Cohen reportedly discuss a payoff to ensure that a possible article revealing allegations of an extramarital affair was never published. It's not clear who Trump and Cohen were reportedly discussing making such a payoff to.
According to the Times, the recording suggests that the two men were discussing a payoff for Karen McDougal, a former PlayBoy model who alleges she had a 10-month affair with Trump back in 2006. Trump and the White House have denied that an affair took place. In August 2016, American Media, Inc., the parent company that owns publications like the National Enquirer, reportedly paid McDougal $150,000 for the rights to her story. Earlier this year, McDougal sued AMI to break a non-disclosure agreement she'd signed in exchange not to go public with her story, after apparently learning that Cohen had had a role in the agreement. The Enquirer, which did not publish McDougal's story, was said to have engaged in a practice of "catch and kill" attempt to squash the story.
In a statement to Elite Daily in March, a spokesperson for AMI said,
Karen McDougal has been free to respond to press inquiries about her relationship with President Trump since 2016. Thus, the suggestion that AMI "silenced" her is completely without merit. Rather, Karen signed a contract that gave AMI the editorial discretion to publish her life story, and she promised to write health and fitness columns and appear on the cover of two magazines.
Rudy Giuliani, now Trump's personal attorney, downplayed the importance of the tapes, per ABC, saying that, "Nothing in that conversation suggests that he had any knowledge of it in advance," presumably referring to the president. "In the big scheme of things, it's powerful exculpatory evidence," he said.
The existence of the reported tape has apparently been known for a while, following an April raid the FBI carried out of Cohen's office and living space in New York seeking documents and evidence pertaining to McDougal and Daniels.
There's some confusion as to whom Trump and Cohen were referring to in the reported discussion of a payoff. The Times reports the two men were discussing a separate payoff for McDougal, apart from one made in 2016 to the Enquirer, which was reported just ahead of the election. But according to the Post, Trump and Cohen in the recording discussed making the reported payoff to AMI, not to McDougal.
If they were referring to a payoff for AMI, that would potentially come with its own set of implications, as lawyer Neal Katyal points out. "If true, that would tend to make it more of a campaign finance violation," he wrote in reply to the Post's Carol Leonnig. "It will be interesting to know if the motivation for the payment is expressly discussed on the tape."
McDougal is one of two high-profile women suing over "hush agreements" they reportedly made regarding their alleged relations with Trump, who has denied allegations of both affairs. The other woman is Stormy Daniels, an adult film star who is suing Cohen to break a similar NDA that assured her silence on her alleged relationship with the president. In exchange, Cohen paid Daniels $130,000 out of pocket. The overlapping timelines of both women's alleged affairs span a period in 2006 shortly after Trump's son Barron was born.
Eric Columbus, a former Justice Department official under President Barack Obama, pointed out in a thread on Twitter regarding the recording that the timing coincided with another key development. On Thursday, the special master appointed to oversee the case rejected many of the claims for attorney-client privilege claims that would've protected information between Trump and Cohen. Cohen, who has been noted for his longstanding loyalty to Trump, said in a recent interview with ABC that he puts "family and country first," signaling a willingness to cooperate with officials.
It's unclear what will happen to the tape, now reportedly in FBI possession, but according to the Times, the evidence may have bearing in the agency's investigation into 2016 campaign financing.