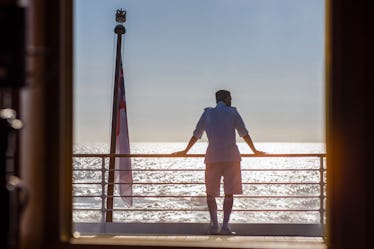 Olivia Colman Got A Raise On 'The Crown' Because "No One Gets Paid More Than The Queen"
Netflix
When one is the Queen, fans assume one is the head of everything, from the household to the pay scale. But despite this being the 21st century, women are still, as a matter of routine, paid less than men, even when one is playing the Queen of England. That revelation came earlier this week when Netflix producers were asked directly about the pay differential between Claire Foy and Matt Smith during the first two seasons of the Crown. But there's good news. Producers have announced Olivia Colman's, who is playing the Queen in Season 3, salary for The Crown will be adjusted, and that going forward, the show will embrace salary parity for all.
Fans seemed genuinely shocked when Suzanne Mackie and Andy Harries of LeftBank productions (which is the company behind The Crown) admitted Matt Smith was paid more, considering that Claire Foy was playing not only the title role but the bloody Queen of England, who outranks her husband. But most are not thinking back to 2015 when the show was cast.
Though Claire Foy was known to PBS and BBC fans for her turns as Anne Boleyn in the stunning Wolf Hall and Lady Persie in Upstairs/Downstairs, she was basically unknown to the American public. Matt Smith, on the other hand, had just come off five years starring in the title role of the Doctor Who reboot, including over the course of the 50th anniversary year of the series, and some of the highest rated episodes of all time.
Though it's shockingly unfair that Foy was offered less, it is at least understandable in that Smith was the far bigger name when the series was cast. That Foy's salary was not adjusted for Season 2 is confounding.
But going forward, Suzanne Mackie says that the company will embrace salary parity, and make sure that Olivia Colman, who is taking over the role come Season 3 will not be paid less than those beneath her.
Going forward, no one gets paid more than the Queen.
This is a perfect time for the series to make this adjustment without having to get too many lawyers involved, or apologies made for unequal compensation since both Matt Smith and Claire Foy are both now off the show. Season 3 marks the first major planned transition for the series, as main roles Queen Elizabeth, Prince Philip, and Princess Margaret all age up. Instead of adding old age makeup to Foy, Smith, and Vanessa Kirby (who plays Margaret) The Crown is doing a clean slate and recasting the show with older actors. It plans to do so again two years from now, between Seasons 4 and 5.
Colman was cast to take over the part of Elizabeth even before Season 2 was released on Netflix, and Margaret's role has gone to Helena Bonham Carter. But Philip is still yet uncast (negotiations with Paul Bettany fell through earlier this year), making it far easier to simply cap the salary for the part before anyone has signed anything.
The Crown is also working on casting the next generation of royals, with Prince Charles turning 25 this coming season, and Princess Anne reaching marriageable age. But the most anticipated role to come will not be turning up until Season 4: Princess Diana. During her time married to Charles (and even after that marriage dissolved) Diana's fame and popularity eclipsed that of Queen Elizabeth II at almost every turn. Good thing that no one gets paid more than Elizabeth going forward. Not even Diana Spencer.
The Crown is expected to start filming in late spring, early summer, with an expected release date sometime late in 2018, probably during the holiday season.