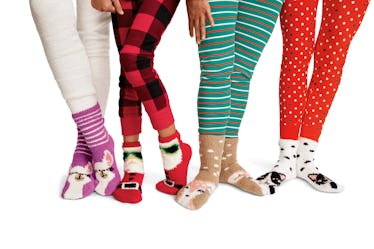 Old Navy's One Dolla Holla Sale Will Make You Feel All Warm & Fuzzy With $1 Steals
Old Navy
If your holiday socks don't make you feel all kinds of cozy and hygge and happy just by looking at them then you're doing your sock shopping wrong. How does one do sock shopping right, you ask? Old Navy's One Dolla Holla Cozy Socks sale is the ideal place to start. Not only does it include the retailer's signature ultra fuzzy socks (they're akin to wearable clouds) featuring festive holiday patterns, but it'll let you shop them at more then 75 percent off. You'll love how your new socks look and you won't hold a grudge against them from taking away from your holiday shopping budget. It's a win-win, you see?
On Friday, November 23—which you might better know as Black Friday—Old Navy will be offering its classic Cozy Socks at just $1 per pair. Seeing as they typically retail for $5 per pair, it's one generous deal. Available in 32 prints, from unicorns and sloths to gingerbread men and elves, there'll be something for everyone in your family and make for the ideal stocking stuffer. What's more, for every pair sold Old Navy will donate $1 to Boys & Girls Clubs up to $1 million, allowing the sale's good cheer to reach far and wide.
The only catch is that you have to purchase the socks in-store to get the deal, but seeing as Old Navy's Black Friday Sale, which is offering 50 percent off everything, will be happening at the same time, your trip will be more than worth it.
Check out a few of the best Cozy Socks below.
Naughty or Nice?
Who wouldn't want a pair of cute little elves dangling from their toes at all times? Paired with some thermal jammies, these would make for the perfect Christmas Eve outfit.
Pugs & Hugs
Literally all I want for the holidays.
Just Hanging Out
I might or might not own a sloth onesie and these socks would finish off the look perfectly. My future boyfriend would agree.
Magic Happens
If you're into the fuzzy socks but don't necessarily want to go for a holiday-themed pair (after all, you want to be able to wear them year-round!), this pair might be for you. Featuring a unicorn among an array of stars and a moon, they're far out in the best way.
Happy Feet
Penguins mate for life, so it's only right you get a pair of them! Contrasted against a mint green background peppered with falling snow, they're sure to turn heads at your next pizza and rosé night with your BFFs.
Power Dressing
Wear your life motto on your feet with these rad GIRL PWR socks. Because crushing the patriarchy is exhausting and you'll need to relax in cozy AF clothes after long days of advocating for gender equality.
Tread Softly
And then there is this llama pair, which feels like a bit of a wildcard but is excellent none the same. Llamas are fuzzy and so are these socks, so it works. Right?