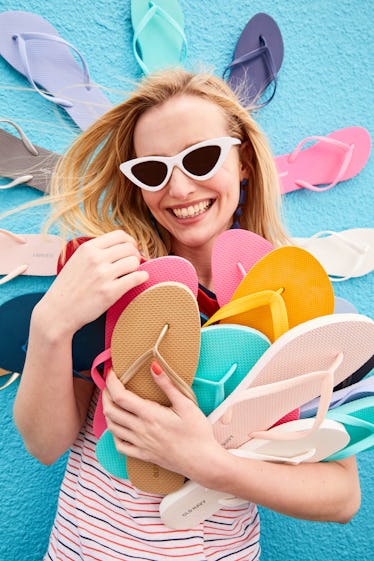 Old Navy's $1 Flip Flop Sale Is Almost Here, So You Can Stock Up For The Whole Summer
Courtesy of Old Navy
What do you get when you combine trendy fashion, affordable prices, and epic deals? Old Navy! The only thing better than the fashion mecca's must-have styles are their unparalleled sales. Old Navy's flip flop sale is coming soon to a store near you and the deals are better than I could've imagined.
It's officially summer and you know what that means. Going to the beach? Flip flops. Grocery shopping? Flip flops. Neighborhood brunch? Flip flops. Backyard barbecue? Flip flops. Getting a pedicure? Flip flops. In case it's unclear, I love flip flops because you can wear them pretty much anywhere all summer long. They're basically little rubber clouds for your feet that come in seemingly endless colors and prints. Oh, and they're cheap AF, especially at Old navy.
In less than two weeks time, on June 23, men, women, and children alike can adorn their feet with almost any color under the rainbow for one dollar. The offer is available in store only and is limited to ten pairs per customer, but that means you can get a pair of flip flops for every day of the week (and then some) for only $10. And if you prefer a bold, printed pair, you're still in for an epic day. All printed pairs of flip flops will be on sale for $2! Personally, I'm thinking of getting solid colors for during the week and then two patterned party shoes for the weekends — that means I can get 7 pairs of flip flops for $9. OK where is my closest Old Navy store? I need to know now.
Did somebody say flip flops?? Why yes, yes I did.
Lust-Worthy Lilac
Old Navy's Classic Flip Flops come in an array of fun colors and while the style typically retails for $4, you'll soon be able to score them for only $1.
A Teal Steal For Real
Old Navy is going bold AF with their summer colors and I'm into it.
Orange You Gonna Want These?
Perhaps orange really is the new black.
A Blue Hue
I'm feeling blue (in a good way) about this pair.
Pretty In Millennial Pink
Is millennial pink an official color of the rainbow yet?
Wear The Rainbow
Why pick one color when you can wear them all? Old Navy patterned flip flops like this ombré rainbow pair will cost you only $2 on June 23. Plus, June is Pride Month so the more rainbows the better.
Melon Mania
Few things same summer as much as juicy slice of watermelon. These shoes are making me hungry...
Rosé All Day
Rosé all day, rose gold, $2. Enough said.
Stripes For Your Stride
You can never go wrong with a classic like black-and-white stripes. They're très chic.
Pining After Pineapples
Patterned flip flops like these normally go for $5 but June 23 will bring the price down to an almost unbelievable $2.
Me. All summer long.
If you're like me, you're experiencing a bit of anxiety over the fact that this sale is taking place in-store only. You'll have to actually leave the house and interact with other humans in order to score your $1 sandals. Hear me out though. First of all, buying shoes in the store means no extra charge for shipping. It also means immediate gratification. No need to spend days sitting by the window waiting from the mailman, you'll get your shoes in a matter of minutes. It's see now, buy now, wear now, all for low price of $1 at Old Navy.