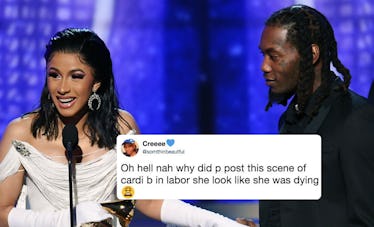 Offset's Video Of Cardi B Giving Birth To Promote His Album Has Fans Feeling So Many Things
Kevin Winter/Getty Images Entertainment/Getty Images
Cardi B and Offset have had a wild year. Cardi B just took home the 2019 Grammy for Rap Album of the Year, and very strangely enough she brought Offset on stage with her. Fans who follow the dynamic duo know they have been toying with the idea of getting a divorce ever since Cardi B announced they were breaking up in early December 2018. However, Offset's made it his mission to win her back, prompting some fans to think this whole breakup thing might be a big PR move (though, Cardi vehemently denied that). Now, Offset's video of Cardi B giving birth on Instagram to promote his new album has loads of people raising their hands and asking more questions.
To be fair, fans have known a solo album is coming from the Migos group member for some time. Originally, Offset's album was scheduled to drop on December 14, though it was seemingly put on the back-burner following Cardi B announcing their plans to get divorced. Since then, the new release date has been up in the air. Meanwhile, Offset has been on a massive "win Cardi B back" campaign including bombarding her on stage at one of her concerts with a giant flower display that spelled out the message "Take me back, Cardi." Obviously, fans were fascinated by their decision to walk the Grammy red carpet together and even more fascinated by Offset joining her on stage for her win.
It looks like Offset started thinking all of this attention might be a good time to get the word back out about his album and dropped just a teeny tiny teaser video on Instagram the same night as the awards show. Heads up, it straight-up features Cardi B in labor with her and Offset's daughter, Kulture. So, if you're a fainter, you've been warned.
A lot. It's a lot. But, let's get into it.
Obviously, there's a theme, here. Along with Cardi B in labor, the promo video features three other major elements: money, music, and his children. In addition 7-month-old Kulture, Offset has three other children from previous relationships. He has two sons Jordan, 7, and Kody, 3, and a 3-year-old daughter Kalea. Throughout the promo video, shots of Offset talking to his kids or hanging out with them on stage are interspersed between footage of him counting money, driving fancy cars, and smoking in the studio. At the very, very end, the promo includes video of Cardi B's labor with Offset standing by her side.
He captioned the video, "A L B U M & D O C C O M I N G 2/ 22/19."
Fans sounded off in the comments writing things like, "this is some real sh*t," "wow," "beautiful," and "bruh." People jumped on Twitter to comment, too.
Clearly, no one really knows how to feel. Is this a massive opportunistic move on Offset's part and he's simply capitalizing on Cardi B's success to promote his own work? Or, did Offset just want to feature one of the most important moments in his life (the birth of Kulture) in the promo for his upcoming documentary to show he and Cardi actually meant to be together and just figuring it out like the rest of us? I guess time (and probably Cardi B) will tell.