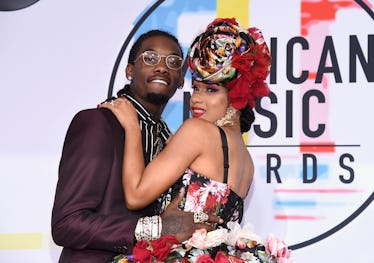 Here's The Reported Reason Why Cardi B & Offset Sadly Grew Apart
Kevork Djansezian/Getty Images Entertainment/Getty Images
If you're still bummed that rappers Cardi B and Offset called it quits, then prepare yourself for another gut-wrenching reported detail. As you may or may not know, Cardi B took to Instagram on the morning of Dec. 5 to announce to her fans that she and Offset were splitting, and that they would be seeking a divorce. It was beyond sad, considering the two rappers got married back in September 2017 and welcomed their first child together in July 2018, and many fans were scratching their heads as to why the breakup even happened. So, that begs the question: Why did Cardi B and Offset break up? Well, according to one report, it had more to do with their careers than anything else. Elite Daily reached out to both teams for comment on the report, but did not hear back by the time of publication.
According to an inside source per Page Six, Cardi B and Offset's relationship became more "for business" than it was romance.
"They were really together, of course. But, after a while, it was more for business," the insider said, adding, "... They have smart people who are savvy and made it known that [being together] is a smart business arrangement for everyone." The source also said,
Celebrity couples play well. It was a lucrative business arrangement for both of them. They're enormous stars. Their relationship was more of a wink-and-nod, we're together, but we're not together. They played it up for as long as they could.
I'm acting fine as I read this, but inside, my heart feels empty and cold.
I honestly don't know what's worse: this most recent update about their breakup, or when Cardi initially made the announcement to her fans.
On Wednesday, Dec. 5, Cardi confirmed the split in a video where she seemed oddly calm about the whole thing.
"I've been trying to work things out with my baby's father for a hot minute now," she revealed. "We're really good friends and we're really good business partners . . . but things just haven't been working out between us for a long time."
Is that not a dagger right through the heart? She continued, saying, "It's nobody's fault, I guess we just grew out of love, but we're not together anymore," adding that "it might take time to get a divorce."
What's even sadder was Offset's reaction to the breakup post, taking to the comments section of the video Cardi B posted and simply writing, "y'all won."
NO, OFFSET. WE DID NOT WIN.
Of course, the pot was slightly stirred when TMZ reported that Offset reportedly tried to set up a threesome with rapper Cuban Doll and Instagram model Summer Bunni, which had fans debating whether or not that became the downfall of their marriage, but neither Cardi B nor Offset have commented on these rumors. Summer Bunni even posted a video apologizing to Cardi B, saying that she didn't realize how serious it was between them.
"I have not messed with Offset since he's had his baby. I didn't know how serious his marriage was ... It took until today to get into this, seeing everything," she said, adding, "I never wanted to break up a happy home."
Elite Daily reached out previously to Offset's team about Summer Bunni's claims, but did not hear back by the time of publication.
Neither Cardi B nor Offset has publicly responded to Summer Bunni's video.
Whatever it is that you choose to believe, let's all try to tread lightly and give the pair some space to figure out their new normal. Here's hoping there truly is no bad blood between them.