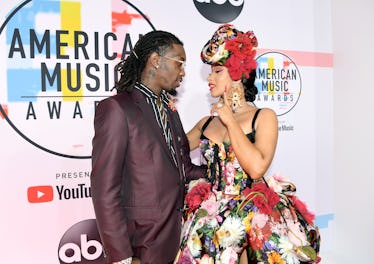 Offset Just Shared The Most Heartbreaking Tweet About Cardi B After Their Split
Emma McIntyre/Getty Images Entertainment/Getty Images
Offset isn't ready to move on from Cardi B, y'all, and he doesn't care who knows it. On Sunday, Dec. 9, the Migos rapper took to Twitter to air his feelings, and Offset's tweet about missing Cardi B after their split will make you feel pretty emotional, because it's so sad. Elite Daily reached out to both Cardi B and Offset's teams for comment about the tweet and their current relationship status, but didn't hear back by the time of publication.
Just days after the "I Like It" songstress took to Instagram to announce that she was splitting up with her husband of one year, Offset is re-iterating the fact that he's not OK with this breakup, and in all-CAPS, no less. On Sunday afternoon, the rapper headed to Twitter to let the universe know, "F*CK YALL I MISS CARDI."
His plaintive message is the latest, heartbreaking detail in a split that's only gotten messier since the world found out about it on Dec. 5.
In an Instagram video she shared (and then deleted) early Wednesday morning, Cardi B told her followers:
I've been trying to work things out with my baby father for a hot minute now. We're really good friends and you know we're really good business partners. And you know he's always someone that I run to to talk to, and we got a lot of love for each other. But things just haven't been working out between us for a long time, and it's nobody's fault.
She continued, "I guess we grew out of love. But we're not together anymore. I don't know, it might take time to get a divorce. And I'm always gonna have a lot of love for him because he is my daughter's father. And yeah."
At the time, Offset also made it clear that he was not on board with a comment that had fans pretty confused. "Y'all won," he wrote, seeming to imply that the breakup was not mutual and that he was not at fault, despite speculation that cheating was to blame. Elite Daily previously reached out to both Cardi B and Offset's teams for comment on the rumors of infidelity, but did not hear back.
Now, the rapper is once again taking to social media to share his feelings about the whole split, and however you feel about him, his raw and emotional message is pretty gut-wrenching.
While the breakup was heartbreaking for fans who've been stanning this rapping powerhouse couple, it wasn't exactly surprising to many considering rumors of cheating that have been swirling around the Migos star this year.
Back in January, the "Bodak Yellow" hitmaker appeared to confirm speculation that his beau had been unfaithful in a since-deleted tweet saying:
"No, it's not right for [someone] to cheat…But what you want me to do? Go f*ck me another [person] ? Start all over again and get cheated on again? This sh*t happens to everyone and I be too, you too…People handle they relationship different soo."
Then there was the release of her song "Be Careful" in April, which included some pretty telling lyrics that many took to be Cardi spilling the tea on Offset's alleged cheating, as well as a recent apology video from the rapper's alleged mistress, Summer Bunni, which was released just days after the couple's reported split. Elite Daily previously reached out to Cardi B and Offset's teams for comment on the video's claims, but did not hear back by the time of publication.
Needless to say, tweeting your feelings is probably not the best avenue to take if you want a second chance. Cardi B has yet to publicly respond to Offset's message, but I have a feeling that she's too busy celebrating her five Grammy nominations to come to Twitter right now.