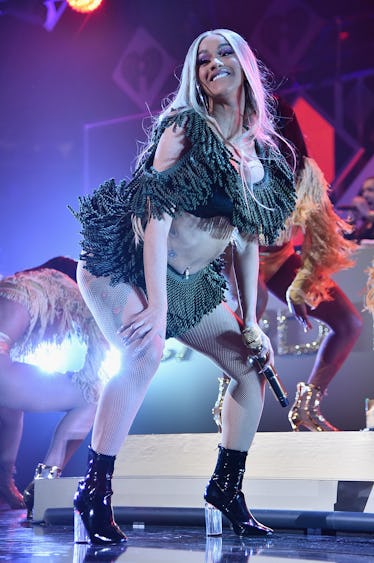 Cardi B's Hilarious Reaction To Hearing About Her Grammy Noms Came At An Unexpected Moment
Theo Wargo/Getty Images Entertainment/Getty Images
It's not every day that you're being considered for one of the biggest honors in music, and Cardi B's reaction to being nominated for five Grammys for the very first time came when she probably least expected to hear the news. On Friday, Dec. 7, a reporter first informed the "Bodak Yellow" hitmaker that she was up for not one, but five different awards, just moments after she appeared in court for assault and reckless endangerment charges and was ordered to stay from two women she allegedly assaulted. Elite Daily reached out to Cardi B's team for further comment on the ruling, but did not hear back by the time of publication. It was a less-than-ideal moment, but Cardi B's totally candid response to learning the news is so hilarious because it's classic Cardi.
On Friday afternoon, the rapper took to Twitter and Instagram to share the video along with a tongue-in-cheek reference to the whole situation.
"This is not How expected to find out I'm nominated for a Grammy…" Cardi B, whose real name is Belcalis Marlenis Almanzar, captioned the Twitter video with laughing and sad face emojis. "I need a do over."
In the video, Cardi's face registered absolute shock when a reporter told her that she'd been nominated for Grammy Awards as she was leaving the courtroom. "I am?" she asked, repeating herself with a big smile on her face. After a moment, she asked the room, "How many nominations?"
After learning that she'd bagged not one, but five Grammy noms for the first time ever, Cardi B went into celebration mode, sticking her tongue out, pumping her fist, and shouting one of her Cardi-isms, "Oweee!"
"What a way to find out i got 5 Grammys nominations… I'm telling you my life is a movie. I work my ass off for this!" she captioned the video on Instagram. "Win or not at least [sic] i know i had a chance and people was watching and admiring my work. Im Soo happy! THANK YOU!"
Earlier that morning, a judge ordered Cardi B to stay away from the two waitresses she allegedly assaulted at a strip club earlier this year. Reports claimed that the rapper had suspicions that her husband, Migos' Offset, was having an affair with one of the women, and a video reportedly captured the songstress throwing an ice water bucket. Elite Daily reached out to Cardi B's representation for comment on the allegations, but did not hear back at the time of publication.
The Grammys announcement comes just days after news broke that Cardi B and her husband had called it splits. The Bronx native made the report official with an Instagram video on Dec. 5 that she's since-deleted.
She said in the video:
"I've been trying to work things out with my baby father for a hot minute now. We're really good friends and you know we're really good business partners. And you know he's always someone that I run to to talk to, and we got a lot of love for each other. But things just haven't been working out between us for a long time, and it's nobody's fault."
"I guess we grew out of love," she continued. "But we're not together anymore. I don't know, it might take time to get a divorce. And I'm always gonna have a lot of love for him because he is my daughter's father. And yeah."
Offset's short but blunt comment on the video had fans scratching their heads. "Y'all won," he wrote, which was followed by a totally unnecessary apology from Offset's alleged mistress, Summer Bunni, saying she didn't "know how serious" Cardi and Offset's marriage was. I know, I'm still confused over that one. Elite Daily previously reached out to Cardi B and Offset's teams for comment on the claims of infidelity made in the video, but did not hear back by the time of publication.
Needless to say, it's been a tough couple of days for Cardi, but something tells me that the "I Like It" chart topper got her "do over" later on Friday night when she performed at the Z100 Jingle Ball at Madison Square Garden.
She closed out her Dec. 7 set with a rendition of her OG hit, "Bodak Yellow," reportedly telling the audience, "I'm gonna perform this song until the day I die." It's fitting as "Bodak Yellow" was nominated for Rap Song of the Year and Rap Performance of the Year. Cardi was also nominated for Album of the Year for Invasion of Privacy and Record of the Year for "I Like It."
It looks like Cardi B is ready to move on from the personal drama and celebrate the fact that she's slaying the career game, Okurr?