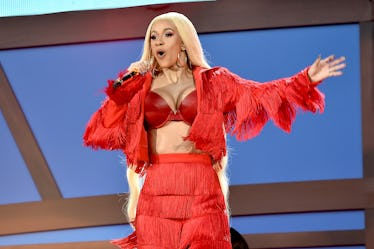 Cardi B Turned Herself In To Police In Connection With An Alleged Strip Club Assault
Theo Wargo/Getty Images Entertainment/Getty Images
Days after performing onstage at the 2018 Global Citizen Festival, Cardi B has turned herself in to police in connection with an alleged strip club assault. It is unclear if she was directly involved in the late August fight at a strip club in Queens, New York, but according to reports, the rapper is now expected to face misdemeanor charges. Elite Daily reached out to her team for comment, but did not hear back by the time of publication.
Reports of the alleged assault emerged on Oct. 1, when Cardi B reportedly surrendered to New York City police at a Queens precinct. According to the New York City Police Department, the fight she is linked to occurred on Aug. 29 at Flushing's Angels Strip Club, where people Cardi was with reportedly threw chairs and allegedly harmed two bartenders. It is unknown if the people she was reportedly with that night have also turned themselves in to authorities or if they were expected to report to police.
TMZ first reported the news, also publishing clearer details of the alleged fight. The outlet claims that the rapper had "a long-standing beef" with one of the two bartender sisters because Cardi reportedly believed the woman had slept with her husband, Offset. Reportedly at the club because Offset's musical trio Migos was performing there, Cardi allegedly told her team to attack bartenders Jade and Baddie Gi with bottles, chairs, and a hookah smoking machine. Elite Daily reached out to Cardi's team for comment on the report, but did not hear back by the time of publication.
TMZ reports that the group's alleged attack did hurt the bartenders but they refused medical attention. A source also told the website that the altercation began after someone reportedly threw a drink and that the attack was not premeditated. Now having turned herself in to police, Cardi reportedly faces misdemeanor charges for reckless endangerment and, according to TMZ, disorderly conduct. Reports also suggest that she will receive a summons to appear in court in relation to the charges.
The rapper arrived at the police precinct on Oct. 1 with her security team covering her face with umbrellas. She was not arrested upon her arrival and did not speak to reporters.
Attorney Joseph Tacopino spoke in defense of the bartenders, saying about Cardi B:
Whether she's a famous rapper or a common street hood, she's got to be held accountable for her criminal actions. It's as simple as that: She ordered the beating after threatening my clients and later participated in an assault against them.
Cardi cooperating with authorities comes less than a month after she feuded with fellow rapper Nicki Minaj at a New York Fashion Week party. When leaving the annual Harper's Bazaar Icons party at the Plaza Hotel on Sept. 7, the two women began fighting, and social media footage of the argument shows Cardi being restrained as Minaj leaves the site. Elite Daily reached out to Nicki Minaj and Cardi B's teams for comment but did not hear back by the time of publication. Cardi, who gave birth to her first child in July, later claimed on Instagram that Minaj had criticized her parenting skills. A NYPD spokesman told NBC News that when police reached the scene, only Cardi was there, but she declined to file a complaint.