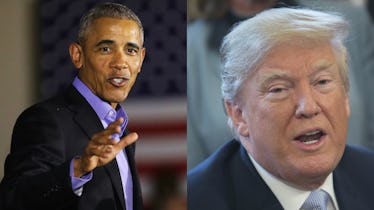 Trump's Second White House Correspondents' Dinner Will Be So Different From Obama's
Spencer Platt/Getty Images News/Getty Images & Pool/Getty Images News/Getty Images
Well everyone, it's that time of year again. Political figures from all over gather in Washington, D.C. to attend the White House Correspondents' Dinner, and it's always a delightful affair — for some. In case you wanted to compare and contrast this presidency with the former, Obama's vs. Trump's second White House Correspondents' Dinner speaks volumes.
It's obvious that Donald Trump isn't your average president. In April 2017, he broke longstanding tradition when he announced that he wouldn't be attending his first White House Correspondents' Dinner as president. Even though Trump has a history of being quite the butt of the joke at these type of events, everyone was surprised that he decided to skip out on the festivities as the guest of honor himself. Fast forward to 2018, and Donald Trump should be getting a bit more comfortable with attending fancy events such as these. Well, apparently not. The White House Correspondents Association (WHCA) announced that Trump plans to skip his second Correspondents' Dinner.
So the guest of honor himself won't be attending one of the most influential nights in the White House. To be honest, I'm not that surprised. Donald Trump definitely isn't a typical president.
However, just for giggles, let's compare and contrast how Trump's second Correspondents' Dinner holds up to Obama's. The differences are truly unreal.