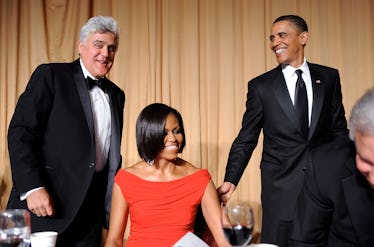 Obama's Second White House Correspondents' Dinner Speech Was Hilarious
Pool/Getty Images News/Getty Images
It's no secret that you can tell a lot about American presidents from their archived speeches. But with the White House Correspondents' Dinner (WHCD) — a time-honored tradition that affords journalists to take a night off from speaking truth to power and mingle with D.C. staffers and media influencers — things are a bit different. There's much more freedom to keep things light and have fun. This year's, which is the second one happening while Donald Trump is president, is happening on Saturday night, April 28, and it's fun to look back and see what jokes past presidents have delivered. President Barack Obama's second White House Correspondents' Dinner speech was pretty great, and maybe even a little psychic.
2010 was a long time ago. What was in the news back then? The Tea Party was on the rise, per Time magazine, and Obama was having a rough time pleasing people. In January 2010, the Supreme Court ruled in its landmark case Citizens United vs. the Federal Election Commission that corporations were well within their right to spend money influencing political campaigns, per Time. Apple had just announced it would release a brand new device called an iPad. Justin Bieber was on his way to becoming a household name with his smash hit, "Baby" featuring Ludacris (Bieber actually attended the 2010 WHCD with People magazine, in a suit that was entirely too big on him.)
Obama's second year at the lectern cemented his reputation as a master orator. His jokes were punchy and well-delivered. His opening line was a crowd-pleaser poking fun at Vice President Joe Biden's gaffe a few weeks earlier, when he cursed in front of a live microphone before a press briefing on health care reform. After introducing the president at the signing ceremony for healthcare reform legislation at the White House on March 23, 2010, Biden turned and embraced Obama when he whispered: "This is a big f*cking deal!"
Obama came out and joked that he wasn't sure if he would attend the dinner this year, but that Biden convinced him. "This is a big [beep] meal!" Obama said to roars of laughter.
Obama also acknowledged the birther controversy, which was reportedly started by Donald Trump, that alleged that Obama was not born in the U.S. After thanking the first lady for attending, Obama said sincerely, "There are few things in life that are harder to find and more important to keep than love," before backpedaling for the punchline, "Well, love, and a birth certificate."
Also newsworthy, just weeks before the 2010 WHCD, was the worst-ever oil spill in U.S. history — the Deepwater Horizon explosion and subsequent oil leak in the Gulf of Mexico. (The WHCD was May 1, 2010; the oil spill was April 20, 2010). The oil spill would later become one of the biggest news stories of the year, as the petroleum company BP reportedly took 87 days to cap the leak, according to the Pew Research Center. By the time the well was sealed months later, about 5 million barrels of oil had spilled into the Gulf. Obama decided to address the spill in his remarks, saying,
You know even as we enjoy each other's company tonight, we're also mindful of the incredible struggles of our fellow Americans in the Gulf Coast. Both those leading the efforts to stem this crisis and those along the coast whose livelihoods are in jeopardy as a result of the spill. Also in our thoughts and prayers tonight are the men and women in uniform who put their lives at risk each and every day for our safety and freedom.
It was a sincere moment in the night, and at the mention of the U.S. military, there was thunderous applause. Before wrapping up his speech and turning it over to that year's WHCD host, Jay Leno, Obama went on to praise the importance of an open and free press. Remarkably, this moment of his speech seems eerily clairvoyant about the relationship between the media and President Trump.
I'd also like to pay a tribute to the journalists who play an extraordinary role in telling their stories ... Today's technology has made it possible for us to get our news and information from a growing range of sources. We can pick and choose not only our preferred type of media but also our preferred perspective. And while that exposes us to an unprecedented array of opinions, analysis, and points of view, it also makes it that much more important that we're all operating on a common baseline of facts. It makes it that much more important that journalists out there seek only the truth.
This quote confirms my personal suspicion that Obama is operating on a whole other wavelength. It's probably for the best that Trump will not attend Saturday's WHCD, because there's no way he would be able to top Obama's 2010 speech. It would just bum everybody out.