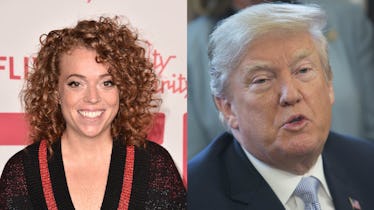 Michelle Wolf's Quotes About Donald Trump Totally Roast Him & I Love It
Alberto E. Rodriguez/Getty Images Entertainment/Getty Images & Pool/Getty Images News/Getty Images
Some people love to watch Comedy Central's celebrity roasts. But for me, once a year I love to snuggle up on my couch, tune in to the White House Correspondents Dinner, and watch comedians completely tear into the nation's most controversial political figures. And with this year's host, I'm extra excited. As the ringleader for this year's festivities, Michelle Wolf's quotes about Donald Trump leading up to the soirée prove we're in for the dinner of the century.
It can't be an easy job standing at a podium in front of all of Washington, D.C, let alone try to be funny on top of that. Past hosts have included Stephen Colbert, Hasan Minhaj, Seth Meyers, and more. This year, Daily Show alumna Michelle Wolf will be taking center stage to deliver some witty one liners aimed at Washington's elite. It's been pretty clear that Trump isn't a fan of being made fun of. In fact, the president is skipping this year's White House Correspondents Dinner just like last year. Wolf hasn't been shy about sharing she's not the biggest fan of Donald Trump, and I've compiled a few quotes of hers to prove it.
Honestly, if I were as sensitive as him maybe I wouldn't want to take part in the festivities either.