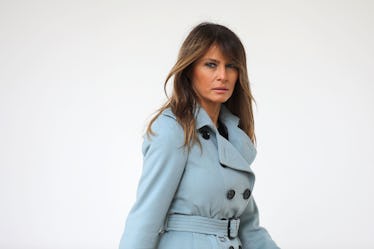 Melania Trump Is Standing In Solidarity With Her Husband On A Major Event
Chip Somodevilla/Getty Images News/Getty Images
It's the day everyone but President Donald Trump waits for every year. The White House Correspondents' Dinner (WHCD) — a time-honored tradition that affords journalists to take a night off from speaking truth to power and mingle with D.C. staffers and media influencers — is happening on Saturday night, April 28. Naturally, Trump is sitting his second dinner out this year, but is Melania Trump at the 2018 White House Correspondents' Dinner?
Nope, not her either. Stephanie Grisham, press secretary for the first lady, confirmed to Elite Daily that Melania will not attend the WHCD. I, for one, am disappointed. Earlier this month, on Friday, April 6, the White House Correspondents' Association (WHCA), which hosts the event, announced that President Trump will not be attending the White House Correspondents' Dinner in 2018. He is holding a rally in Michigan at the same time as the White House Correspondents' Dinner (shocker). But fear not — White House Press Secretary Sarah Huckabee Sanders is reportedly planning to attend the annual good-natured event in the Trumps' place.
So even though Melania won't be there on Saturday night, there is still at least one person affiliated with the White House for the camera to cut to for reactions to host Michelle Wolf's jabs. Ahead of the White House Correspondents' Dinner, Wolf told The New York Times that she wasn't a fan of the current administration, but that she didn't believe their was value in "knee-jerk" jokes about Trump. "You don't want to say what people want you to say," she told the Times. "You want to say what people didn't know they wanted you to say."
If Melania had decided to buck the system and miraculously attend the WHCD unannounced, it wouldn't have been the first event this week that she attended without her husband. The first lady represented the current White House at former first lady Barbara Bush's funeral on Saturday, April 21.
"Today the world paid tribute to a woman of indisputable character and grace," Melania said of Bush in a statement. "It was my honor to travel to Houston to give my respects to Barbara Bush and the remarkable life she led as a mother, wife, and fearless First Lady. My sincerest thoughts and prayers continue to be with George H.W., and the entire Bush family."
She sat next to President Barack Obama at the funeral, and they seemed like they hit it off. Instead of attending the funeral, President Trump went golfing at Mar-a-Lago — if Wolf doesn't make a joke about this I, for one, will be very disappointed.
Aside from her husband skipping the dinner and doing a rally instead, Melania has some good reasons to not attend herself. She might be exhausted from having planned and prepared for the Trumps' first State Dinner last weekend, at which the White House hosted French president Emmanuel Macron.
President Trump tweeted out praise of Melania for her efforts in planning the event on Wednesday, April 25. ".@FLOTUS did a spectacular job hosting the President of France @EmmanuelMacron and his wife Brigitte," Trump tweeted. "Every detail was done to perfection. The State Dining Room never looked more beautiful, and Washington is abuzz over what an incredible job Melania did."
Sanders, at the outset of the April 25 White House press briefing, echoed the president's praise for Melania. With how assertive she was that the state dinner was a success, it kind of made me wistful for the Sean Spicer days. Ah, Spicey.
"The first state visit for the Trump administration was a tremendous success, and the First Lady, in particular, deserves a lot of the credit," Sanders told reporters. "Her attention to every detail and full engagement in the planning helped highlight and showcase the special relationship between the United States and France, our oldest ally."
Even with Melania absent, there's plenty of fodder for jokes — even from this week alone. Between #HatGate, Trump's awkward attempts to hold his wife's hand and his weird bromance with Macron, Wolf definitely has her work cut out for her.