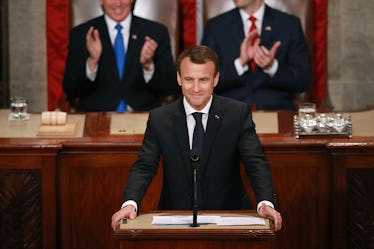 The French President Countered Trump's Ideals In A Speech To Congress, So That's A Good Bromance
Chip Somodevilla/Getty Images News/Getty Images
French President Emmanuel Macron wrapped up his three-day tour of Washington on Wednesday, April 25. Macron and his wife, Brigitte, spent the evening at the White House Tuesday night as part of the Trump administration's first state visit and state dinner, and Macron and President Donald Trump seemed to hit it off. Then, on Wednesday morning, the French leader addressed Congress, and President Macron's speech to Congress went against Trump's ideals, so there goes that bromance.
"We have two possible ways ahead," Macron said. "We can choose isolationism, withdrawal, and nationalism. This is an option. It can be tempting to us as a temporary remedy to all fears. But closing the door to the world will not stop the evolution of the world. We have to keep our eyes wide open to the new risks right in front of us."
"Closing the door to the world" certainly seems to reference some of Trump's isolationist policies — the border wall, pulling out of the climate Paris Agreement, banning refugees, etc. And, hello? "New risks right in front of us?" It seems like some Trump shade is happening right off the bat.
Macron added at one point, speaking passionately about climate change, "Let us work together in order to make our planet great again." A riff on Trump's refrain to "make America great again," perhaps?
Macron's visit raised some eyebrows because the French president and Trump seemingly couldn't keep their hands off each other like good friends, which is why his remarks before Congress on Wednesday was surprising. Ahead of Macron's visit to Washington and his speech to Congress, Trump even tweeted that he was "looking forward to watching President Macron of France address a Joint Session of Congress today."
"This is a great honor and seldom allowed to be done...he will be GREAT!" Trump added.
CNN stitched a video together of all the awkward touchy-feely moments between the two, including handshakes, kisses, and hugs. The so-called bromance between the two leaders sparked speculation — when people weren't distracted by Melania's "Formation"-inspired hat or dandruff memes. Why did they hit it off? Is Macron just trolling Trump? These questions arose largely because the two leaders have disagreed on political matters — Macron supports combatting climate change and going against isolationist policies and was in town in part to try to convince Trump to stick with a 2015 deal about Iran's nuclear capabilities that Trump has roundly criticized.
Many people had many different theories about the playful way in which the two leaders were interacting. One French philosopher told CNN that he thought it was unsurprising that the two would get the media to fawn over them in this way, because they are both driven by ego. "It's just a battle of egos! Two great narcissists who adore themselves, they love themselves. It's all a communications strategy," Michel Onfray, said.
Jean-Luc Antoine Pierre Mélenchon, a far-left member of the National Assembly of France, tweeted his displeasure at the Trump-Macron media fiasco. "Dismal alignment of #Macron on the line #Trump. In #Iran, now, war in sight. Macron danger to peace," he tweeted in French which was translated to English by Twitter.
Mélenchon was referring to rising tensions over Trump's talked-about revisions to an Obama-era nuclear deal with Iran. Macron and Trump indicated in a joint press conference on Tuesday, April 24, that they want to aim for a new deal to restrict Iran's nuclear work, though they reportedly disagree on certain aspects of how to go about it, per CNN. Trump has criticized the 2015 Iran nuclear deal and repeatedly threatened to scrap it.
Macron also addressed the Iran nuclear deal in his speech to Congress saying that as it was signed as a joint agreement between countries, it shouldn't just be tossed out the window. He acknowledged that the deal may not have fully addressed all parties' concerns, but, he said, it shouldn't be "abandoned" without "something substantial, more substantial, instead."
Iranian President Hassan Rouhani roasted Trump on Wednesday, April 25, following his recent comments on the nuclear deal, and said that Trump is a businessman "who has no experience with politics or international affairs," according to NBC News.
Others seem to think that Macron is just playing Trump. "Macron has figured out how to manage Trump," writer and director Rob Reiner told MSNBC.
I wait with bated breath for Trump's Twitter-response to the whole Macron thing once he sees clips of it circulating on the internet.