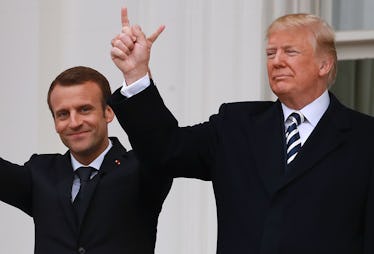 Donald Trump & Emmanuel Macron's Awkward "Dandruff" Moment Got Memed & It's Perfect
Chip Somodevilla/Getty Images News/Getty Images
President Donald Trump and French President Emmanuel Macron have developed something of a special relationship since their first one-on-one meeting in Paris, France in the summer of 2017. But during Macron's first state visit to the White House, that relationship took a pretty awkward turn, and luckily for one of the most uncomfortable moments between these two world leaders was documented on tape. This video of Trump brushing Macron's shoulders is so cringeworthy, and I seriously can't handle it.
The French president along with his first lady Brigitte Macron arrived in Washington D.C. on April 23 for the Trump administration's first official state visit. A state visit is the highest-caliber form of a diplomatic visit and typically occur once per year in the United States. When Macron arrived at Joint Base Andrews in Prince George's County, Maryland, he announced that the two leaders would have the opportunity to discuss many bilateral issues, such as security and trade.
But is wasn't all business during this visit. Trump and Macron managed to share some friendly, lighthearted moments during the visit. But one of these moments took a seriously awkward turn. On April 24 while meeting at the White House and speaking to the press, Trump addressed the "very special relationship" that he shares with the French president, which somehow made him feel comfortable brushing a "piece of dandruff" off of Macron's shoulder.
Uhm, what?! First of all, why?
Whether there actually was a piece of dandruff on Macron's shoulder or not, I don't understand why on earth Trump would choose to make this sort of announcement in front of the press. Second of all, how does brushing off a white scalp flake off one's shoulder indicate a strong relationship?
Sigh. These are questions I'll sadly never get the answers to.
This moment between Trump and Macron was so incredibly awkward, and so incredibly absurd, that one Twitter user decided to use the clip to create a mock-closing credits scene from everyone's favorite half-hour political satire comedy series, Veep.
And thus, the above clip was born. And it is absolute perfection. In fact, it's so good that the queen-Veep herself Julia Louis-Dreyfus gave this Twitter user a shoutout, saying, "Well, I love this."
Me too, Julia. Me too.
If you've never watched the HBO show, I'll give you a bit of an overview. The show follows politician Selina Meyer (played by the incomparable Louis-Dreyfus, of course) as she navigates the trails and tribulations that come with holding office as the vice president of the United States. Because the show is a satire, it hyperbolizes how ridiculous the American political world can be. And at the end of each episode the screen splits during a particularly awkward or embarrassing moment and makes room for the show's final credits.
So naturally, this awkward moment between Trump and Macron reminded this Twitter user of Veep and decided to create the above video. And may I say that it is absolutely perfect.
This isn't the first time that an awkward Trump administration moment was edited into a Veep closing credits scene. It's been done multiple times. But perhaps the funniest Trump Veep edit that I've seen was created early last year. After announcing two executive orders which addressed concerns surrounding trade enforcement to the press at the White House on March 31, 2017, Trump abruptly left the room without signing them. After Pence ran after him, you can hear reporters asking, "So he didn't sign them?" Which was immediately created into a Veep closing credits scene that same day.
This administration is entirely too meme-able
But despite the jokes, President Macron's visit is actually very serious. He and Trump are expected to discuss the current nuclear deal the U.S. (and other nations) has with Iran, which could have major international implications. The deal, signed in 2015 under former President Barack Obama, was intended to curb Iran's nuclear program and keep the country from developing nuclear weapons. However, Trump has vehemently opposed the current deal because he believes that the U.S. gets nothing out of it. Macron does not share the same opinions, and he hopes that his "special relationship" with Trump will enable him to compromise on a solution to create a new deal, that will continue to protect the U.S., France, and other Europeans nations involved from the threat of an Iranian nuclear attack.
And this "special relationship" also apparently means that Trump can brush off a piece of dandruff that he sees on Macron's shoulder and announce it to the press. So. Awkward.
But I'm sure I speak for Veep fans everyone when I say thank you to anyone who has created these parody closing credits moments. It's little things like this that make my day, and make these uncomfortable (and dare I say embarrassing) Trump moments more bearable.