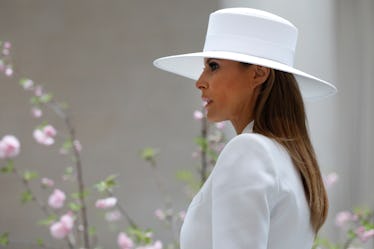 Melania Trump Wore A Massive Hat & It's Reminding Everyone of Beyoncé
Aaron P. Bernstein/Getty Images News/Getty Images
First lady Melania Trump and President Donald Trump appeared outside the White House on Tuesday, April 24 for a traditional arrival ceremony to honor French President Emmanuel Macron and his wife Brigitte. The Macrons are the guests of honor for the Trumps' first state dinner Tuesday night, but already, it's proven to be a memorable affair. At least, Melania Trump's white hat when she greeted the Macrons isn't something anyone will be forgetting anytime soon.
Despite the fact that it was an overcast day in the capital, the first lady went all out in a hat with brims as wide as her shoulders. In fact, Melania's $2,000-plus white asymmetric blazer and suit combo and sky-high gray heels alone would've been enough to outshine the French first lady, but it was the sheer size of the Michael Kors hat that dwarfed poor Brigitte.
Setting aside my general rule that sun hats should be reserved for times when the sun is, well, present, I'll grant that it is a pretty glorious piece of head wear. But perhaps not exactly the best call for a meet-and-greet, as Washington Post correspondent Anne Rumsey Gearan points out.
"Hats off to Brigitte Macron, who just managed a flawless French two-cheek kiss under and around Melania Trump's enormous flat-brim hat. Which is gorgeous," tweeted Gearan.
And I get it. Sun protection and all that. Hats can be practical and I'm all here for that. But let's consider exhibit B: Melania kept on her hat during a tour of the National Gallery of Art following the arrival ceremony.
Who needs a wide-brimmed hat while admiring fine art in the controlled conditions of a gallery? (Are we sure she can she even see the paintings?)
But Melania doubled-down and kept wearing the hat during her husband's joint press conference (also indoors), and lots of people noticed. "Someone needs to tell Melania it's time to take off the hat," tweeted one user.
"Melania Trump is wearing a wide brimmed hat while sitting in front of White House speechwriter Stephen Miller during Emmanuel Macron and Donald Trump's joint press conference, which feels both literally and figuratively shady," CNN's DJ Judd tweeted.
People really didn't want to let her get away with that one.
One thing is clear about the hat: It's classic Melania, making headlines with her wardrobe. As CNN's Abby Phillips puts it: "Melania did not come to play today."
And it certainly got people talking. On Twitter, the hat was drawing comparisons to the iconic wide-brimmed black hat Beyoncé wore with long braids and a stack of necklaces in the music video for "Formation."
People were also drawing parallels to fictional characters, including Pope Pius XIII from The Young Pope, Olivia Pope in Scandal, and yes, unfortunately, even to Don Fanucci from The Godfather.
The first lady also got some flack for rocking her hat along with massive stilettos that had her towering above the French dignitaries and even gave the 6-foot-3 President Trump a run for his money.
Comparisons aside, Twitter has come up with all sorts of theories about why the first lady chose the statement-making accessory. Among them: That it had to do with avoiding Mr. Trump.
"Melania's relationship tips: wear a wide-brimmed hat and your husband will never be able to kiss you," tweeted writer Shannon Carlin.
People have long theorized about the first lady's choice of attire, especially for international meetings, and interpreted her looks as making carefully planned statements. The cost of Melania's fashion choices alone — her outfits from just six days in Asia could've paid for a year of college — show her breaking away from her predecessor, whether intentionally or not.
Details on Melania's gown for Tuesday night will be unveiled at the start of the state dinner. But regardless of what she wears at the dinner, the first lady doesn't need to worry about making headlines for her fashionable tastes.