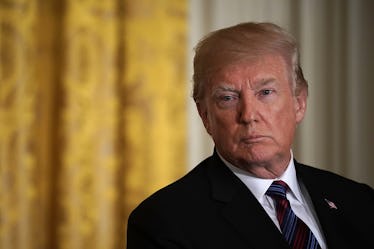 Trump Apparently Made A Decision About This Year's White House Correspondents' Dinner
Alex Wong/Getty Images News/Getty Images
Yes, believe it or not, it has actually been a year since the last White House Correspondents' Dinner fiasco, in which the president frenetically made a decision about his attendance. Ultimately, in 2017, Donald Trump decided to break the decades-long decision and not attend the annual press meal (and accompanied roast). This year, once again, the president has been going back and forth on whether he'd attend. But on Friday, April 6, the White House Correspondents' Association (WHCA), which hosts the event, announced that Trump will not be attending the White House Correspondents' Dinner in 2018.
WHCA president Margaret Talev said in a statement posted to Twitter,
The White House has informed us that the president does not plan to participate in this year's dinner but that he will actively encourage members of the executive branch to attend and join us as we celebrate the First Amendment. In keeping with tradition, Press Secretary Sarah Sanders also will represent the administration at the head table. The April 28 dinner celebrates award-winning reporting, scholarship winners and the vital role of the First Amendment and the free press in American democracy.
Aside from the WHCA's apparent stance on Oxford commas, there are some things to be learned from this statement. First and foremost, Trump made a decision. Up until this statement, that was unclear; even Politico's Playbook newsletter from early Friday morning claimed that aides believed the president would attend. But then, on a radio interview with 77 WABC Friday morning, Trump said, "It's unlikely I will do the White House Correspondents dinner this year," adding, helpfully, that the media is "so bad and so fake."
The other thing you can learn from this statement is that Sarah Huckabee Sanders will be in attendance at the dinner on April 28. Although Talev says in the statement that this is "in keeping with tradition," then-White House Press Secretary Sean Spicer did not attend 2017's WHCD. That year marked a total break from tradition. Presidents have been attending the annual dinner since 1924. Since then and before Trump, the only president to have skipped the dinner was Ronald Reagan in 1981, who skipped it because he was recovering from an assassination attempt. So, differences.
Then, you should take a look at the conclusion of Talev's statement, which discusses what the dinner is all about, including "the vital role of the First Amendment and the free press in American democracy." In case ya haven't noticed, Trump isn't exactly the biggest fan of the media. With this statement, the WHCA is making the point that the FAKE NEWS media is both a founding principle of the nation and, well, legally protected (i.e. First Amendment). They are also noting that it is part of keeping democracy working, which the press does by keeping the public informed and by holding elected officials accountable.
The dinner itself is, traditionally, a light-hearted event for the press and the president to bond over making each other's jobs harder by roasting each other (an American tradition if ever there were one). But Trump has, traditionally, taken this tradition a bit too personally, a factor that some have called out on social media with Friday morning's announcement.
Many have speculated that the 2011 White House Correspondents' Dinner was what catalyzed Trump to actually run for office. (Trump has denied this.) Trump attended that dinner, and President Barack Obama took it as an opportunity to make fun of him. This bash-fest came after Trump led a racially-charged campaign to question Obama's legitimacy as an American citizen, which Obama referenced as he launched into a riff about Trump's qualifications to be president (which, at the time, was hilarious!).
According to lore, Trump was so enraged that he decided to run for office. So, honestly, it's kind of safer for America (and the world) that Trump is skipping the dinner again this year. Now that he's actually president, who knows what some light ribbing might make him do.