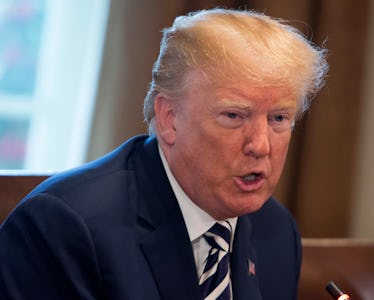 Donald Trump Won't Go To The White House Correspondents' Dinner & It's So Messy
Pool/Getty Images News/Getty Images
As if this year couldn't get any messier, President Donald Trump is sticking by last year's decision not to attend the annual White House Correspondents' Dinner, and after missing the 2017 event, is planning on skipping the 2018 dinner. As of 2018, Trump will have skipped all the Correspondents' Dinners of his term, snubbing the long-standing tradition of American presidents. So why isn't Donald Trump going to the Correspondents' Dinner? Basically, he's continuing his temper tantrum against the press.
In a radio interview on April 6, Trump said he wouldn't attend because, he says, reporters quote sources who "don't exist." According to USA Today, the president said that he would consider going in future years. "I sort of feel like the press so bad, it's so fake, it's so made up ... So I just think I want to get it straightened out with the press before I do it," he said. Instead, he'll be states away, holding a campaign rally in Michigan, according to CNN.
Trump, who has routinely attacked news organizations and their journalists (often labeling them as "Fake News"), decided not to attend the 2018 dinner just weeks before the April 28 event. Also on April 6, the White House Correspondents' Association's (WHCA) president Margaret Talev shared a statement to Twitter saying that White House Press Secretary Sarah Huckabee Sanders would stand in for Trump. It read:
The White House has informed us that the president does not plan to participate in this year's dinner but that he will actively encourage members of the executive branch to attend and join us as we celebrate the First Amendment. In keeping with tradition, Press Secretary Sarah Sanders also will represent the administration at the head table. The April 28 dinner celebrates award-winning reporting, scholarship winners and the vital role of the First Amendment and the free press in American democracy.
And then just hours after the announcement was posted on April 6, Trump shared yet another clapback to the "Fake News Media" so, yep. It's probably a good thing he decided to skip the dinner.
He wrote,
Do you believe that the Fake News Media is pushing hard on a story that I am going to replace A.G. Jeff Sessions with EPA Chief Scott Pruitt, who is doing a great job but is TOTALLY under siege? Do people really believe this stuff? So much of the media is dishonest and corrupt!
Is anybody really surprised at any of this, though? In February 2017, Trump also called the "Fake News Media" the "enemy of the American people," a stance which isn't really in line with the dinner's celebration of "award-winning reporting, scholarship winners and the vital role of the First Amendment and the free press in American democracy."
Another thing to note is that Trump isn't exactly known for taking a joke well. So, considering the fact that the correspondents' dinner has often served as an outlet for attendees to roast the president, Trump likely wanted nothing to do with it. I, for one, would definitely want to keep my distance if I was roasted as badly as Trump was back in 2011. During that year's correspondents' dinner, Trump was mocked by Barack Obama after he falsely claimed that Obama had been born in Kenya, which made the crowd roar with laughter. According to Newsweek, Obama joked,
I know that he's taken some flak lately. No one is prouder to put this birth-certificate matter to rest than the Donald. And that's because he can finally get back to the issues that matter, like: 'Did we fake the moon landing?' 'What really happened in Roswell?' And, 'Where are Biggie and Tupac?'
Burn.
A great lesson in Trump's ongoing fight with the press is: don't dish it if you can't take it. And also, you've gotta forgive, forget and move on. News organizations are just doing their jobs, as Trump is doing his. And you can't really be too upset with that.