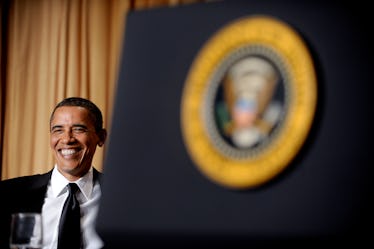 The Host Of Obama's Second White House Correspondents' Dinner Was Iconic AF
Pool/Getty Images News/Getty Images
It's finally that time of year, you guys. The annual White House Correspondents' Dinner is just days away, scheduled for April 28, and with renowned stand-up comic Michelle Wolf on board as a host, the event is sure to be an unforgettable one. While the celebration would've been President Donald Trump's second White House Correspondents' Dinner, he's chosen not to attend due to his never-ending rifts with the press. And considering Trump and his behavior frequently draw comparisons to President Barack Obama, many of us are wondering exactly who hosted Obama's second White House Correspondents' Dinner back in 2010. Well, it was a true comedy icon: the widely-acclaimed television host, comedian and writer, Jay Leno.
It was the perfect selection for a tremendously eventful night. From the sharp one-liners to the tickling comparisons, the Tonight Show host and the president undoubtedly had amazing chemistry. Obama flaunted his perfect comedic timing, famously quipping about Joe Biden and immigration. He even used the evening to throw some fun jabs at his famous host. "The only person whose ratings fell more than mine last year is here tonight," Obama joked. "Great to see you, Jay." (Leno's move to a primetime TV slot in 2008 was bombed with low ratings. The shade!)
Leno coolly shot back by recapping all of the purported factors that contributed to Obama "getting gray," including moving his mother-in-law into The White House. (L-O-L) "I think that would break most men," Leno quipped.
Though many of us would've lived for a televised roast session of Trump, he's skipping this year's event due to his continuous spats with news organizations and their journalists, who Trump often labels as "Fake News" media. His decision to skip the event was announced on April 6 by the White House Correspondents' Association's (WHCA) president Margaret Talev. She shared a statement on Twitter that read:
The White House has informed us that the president does not plan to participate in this year's dinner but that he will actively encourage members of the executive branch to attend and join us as we celebrate the First Amendment. In keeping with tradition, Press Secretary Sarah Sanders also will represent the administration at the head table. The April 28 dinner celebrates award-winning reporting, scholarship winners and the vital role of the First Amendment and the free press in American democracy.
Even though Trump won't be in attendance, with Wolf scheduled to host this year's correspondents' dinner, I'm sure she'll successfully continue the wondrous footprints left by the hosts before her. She's bounced around the entertainment industry for years, writing jokes for Chris Rock, and some of the biggest comedy shows, including on Late Night with Seth Meyers and The Daily Show with Trevor Noah. The hosts are one of the best parts of the correspondents' dinner, so given Wolf's unique style and skills, she's bound to do a phenomenal job.
In February, Talev opened up about her decision to hire Wolf for the event. She revealed that she'd chosen the Daily Show star because of "truth-to-power style," and I'm so here for it. According to Variety, Talev said,
I'm delighted to announce 'Nice Lady' Michelle Wolf as our featured entertainer this year. Our dinner honors the First Amendment and strong, independent journalism. Her embrace of these values and her truth-to-power style make her a great friend to the WHCA. Her Pennsylvania roots, stints on Wall Street and in science and self-made, feminist edge make her the right voice now.
While I would have loved to see Wolf''s impressions of Trump and his own, fun rebuttals as they worked up to the same playful chemistry (or, let's be honest, a version of it) as Leno and Obama, it's obviously not happening this year. But oh well. Maybe in 2019.