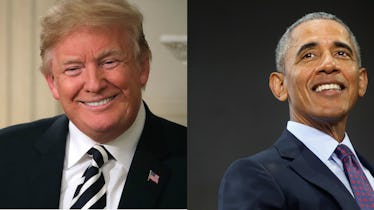 Trump's First Visit To The UK Was So Different From Obama's
Chip Somodevilla/Getty Images News/Getty Images & Yana Paskova/Getty Images News/Getty Images
Traveling across the pond is definitely a part of the president's job, but not every experience is the same. Well, Obama's versus Trump's first U.K. visit proves that case and point. Usually when Britain's highest officials cross paths with U.S. presidents, it's for business. However, that doesn't mean these two world powers can't have some fun every time and again. Well, sometimes.
The Trumps' visit with the queen began with a formal presentation of the British Army, complete with a playing of the U.S. national anthem. The band also played a medley of American military anthems. President Trump and Queen Elizabeth did an "inspection" of the military members, appearing to chat as they walked.
On July 12, Donald Trump arrived in the United Kingdom to meet with quite a few important Brits during his two-day stay. Not only has Trump sat down with Prime Minister Theresa May, but he also plans to meet with Queen Elizabeth at Windsor Castle. Naturally, this was a huge deal for the United States leader, and one could only hope that he was on his best behavior. Even though Trump's first U.K. visit isn't considered "state" matters, that doesn't mean that first impressions are any less important. There are so many different factors that can impact an important visit, including a president's personality, whether he's liked by the public, the presence of the first lady, and sometimes even something as minuscule as the arrival date has proven itself key.
So without further ado, enjoy a walk down memory lane and ruthlessly compare the differences between Barack Obama and Donald Trump's first visit to the United Kingdom.