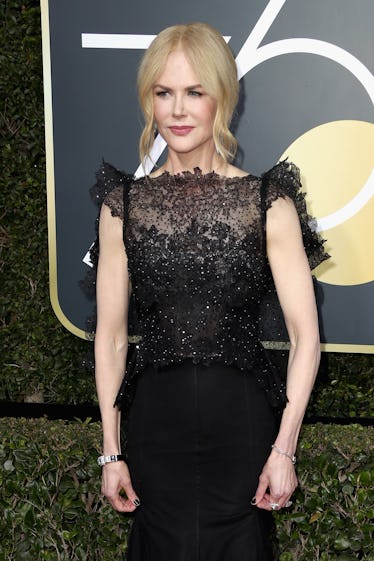 Nicole Kidman's Critics' Choice Award Speech Will Leave You Screaming "Girl Power"
Frederick M. Brown/Getty Images Entertainment/Getty Images
The Critics' Choice Awards on Jan. 11 was surprisingly star-studded. While this is one of the more low-key award shows of the season, everyone made an appearance from Gal Gadot to Reese Witherspoon to Angelina Jolie. I'M NOT MAD ABOUT IT. The cast of all my favorite shows showed up and it turned out to be a great night. As always, Nicole Kidman delivered an acceptance that was dripping with female empowerment. Nicole Kidman's speech at the Critics' Choice Awards kept the conversation on her female co-stars and their teamwork on set.
Kidman is one of the hottest actresses this awards season for her portrayal of Celeste in Big Little Lies. After taking home a Golden Globe and Emmy, it's like the woman cannot lose. The Critics' Choice Awards is no exception — Kidman was nominated for Best Actress in a Movie Made for TV or Limited Series and took home the W.
She was up against her fellow co-star, Reese Witherspoon, and other acting veterans like Jessica Lange. The full list of nominees for Best Actress is:
Jessica Biel, The Sinner (USA)
Alana Boden, I Am Elizabeth Smart (Lifetime)
Carrie Coon, Fargo (FX)
Nicole Kidman, Big Little Lies (HBO)
Jessica Lange, Feud: Bette and Joan (FX)
Reese Witherspoon, Big Little Lies (HBO)
Obviously, a tough category and an extremely iconic group of women.
Besides Kidman's single nomination, Big Little Lies was nominated for Best Limited Series. In addition, her on-screen husband, Alexander Skarsgård, was nominated for his role of Perry in the category, Best Supporting Actor in a Movie Made for TV or Limited Series, and Laura Dern was nominated for Best Supporting Actress in a Movie Made for TV or Limited Series. Big Little Lies was obviously a favorite of the Critics' Choice Awards... and every other award show this year.
Besides all the nominations, it's not surprising that Kidman made an appearance at the Critics' Choice Awards — her real-life BFFs (I imagine) and co-stars, Reese Witherspoon and Laura Dern, were also present. In fact, there was an entire Big Little Lies table at the ceremony.
Kidman's speech kept on-brand with what she's been saying during every award show acceptance speech — females need to stick together. She accepted the speech "on behalf of all the women in this cast." It's so great to see a strong group of powerful female women who genuinely respect each other. You go, Big Little Lies.
Besides working hard on Big Little Lies, Kidman has also been apparently busy writing the best acceptance speeches in history. Her speeches at the Emmys and Golden Globes were inspiring, gracious, and made us love her even more.
To keep with the Time's Up conversation, Kidman used her Golden Globes win to shine a bright light on her female co-stars by saying, "This is ours to share. Wow, the power of women." Kidman continued on by thanking her mother (one of the most influential women in her life) for being an activist for women's rights and said, "this is what you fought so hard for."
She encouraged the entire room (and everyone at home), saying, "I do believe and I hope we can elicit change through the stories we tell and how we tell them. Let's keep the conversation going."
Kidman has always been vocal about working to make an impact on the world. The real-life mom used her acceptance speech for best actress at the Emmys to share how she teaches her daughters to contribute, no matter what position they're in. She said,
Also I want them to know that sometimes when you're acting you get a chance to bring a bigger message — and this is their contribution and your contribution — we've shown a light on domestic abuse. It is a complicated, insidious disease. It exists far more than we allow ourselves to know.
Kidman made such a big impact on me at the Golden Globes and Emmys, I didn't think I would be able to handle another life-changing speech at the Critics' Choice. For my sake, she kept it short and sweet. Thanks, Nicole.
Congrats to Big Little Lies and all the winners and nominees at this year's Critics' Choice.
Check out the entire Gen Why series and other videos on Facebook and the Bustle app across Apple TV, Roku, and Amazon Fire TV.