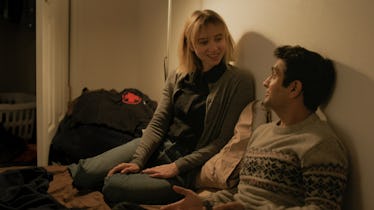 'The Big Sick' Was Snubbed By The Golden Globes & Twitter Is Not Here For It
Lionsgate/Amazon Studios
Comedies Lady Bird, I, Tonya, The Disaster Artist, Get Out, and The Greatest Showman all got 2018 Golden Globe nominations love, but the glaring absence of one of 2017's fan favorites might leave you with a big old, "huh?" It appears The Big Sick was snubbed by the Golden Globes and of course, Twitter is not cool with it. Kumail Nanjiani's sweet and smart critical darling got completely shut out.
The Golden Globes has the opportunity to recognize a variety of genres considering it reserves categories for both drama and comedy. But it looks like it's becoming harder and harder for a rom-com to squeeze into the award show big leagues these days. We have to say we're pretty shocked that the witty and moving gem wasn't at least given one single nomination. It was definitely one of the little indies that could this past year at the box office and it's even based on a true story. Come on, Hollywood Foreign Press. You know you love a good based-on-reality coma comedy! No screenplay nod for Nanjiani and his wife Emily V. Gordon? No Holly Hunter even? Hunter has literally been nominated for seven Golden Globes in the past — what's one more? Saving Grace over this?
The Big Sick has gotten its fair share of recognition throughout the award show rounds so far, so it seemed like a no-brainer to include it at the Globes. The movie has two Independent Spirit Award nominations (for Screenplay and Holly Hunter), six Critics Choice Awards nods, and it was also considered an AFI Movie Of the Year. Naturally, Twitter has some thoughts.
And as we expected, Kumail had his own witty social media response to it all. Oh, you.
Wait — you're saying Burlesque, The Tourist, and Bobby are all former Golden Globe nominees and The Big Sick isn't? We would honestly give Kumail Nanjiani an honorary award for his portrayal of a hilariously deadpan Cell Phone Salesman on Portlandia (he pretty much steals every sketch he's in, honestly), but The Big Sick really deserved a bigger showing for the 2018 Globes. Or, at least, some sort of showing. Maybe the Academy Award nods will turn things around and surprise us all.
Kumail Nanjiani spoke to CinemaBlend about his high hopes for the film when it comes to the Oscars race:
Best Picture. Is that okay? Can I say that? I just feel like, I mean, it's all been so good that I feel like asking for anything more, it just feels ungrateful. It's already been so beyond anything. I don't know, I think Holly [Hunter] and Ray [Romano] are so good in the movie, and it would be great if their work was recognized. Holly obviously has been there a lot. She's won, and she's been nominated a few times, but Ray is so good in it too. I would really, really love it if those guys were recognized.
Turning real-life trauma with lots of emotional and even political layers and into an appealing romantic comedy isn't an easy feat, guys. This Big Sick has been in the works for years. "Because this was based on their life, we were extra sensitive about how we partnered up with people. We didn't want to have to appeal to anything but our own instincts about what would make this work. We were slow to want to be connected to any entity," producer Judd Apatow told IndieWire of the tricky process of bringing the multi-faceted story to life.
Even if The Big Sick won't be going for any gold at the Golden Globes, we're pretty sure the film will have more celebrate as other nominations and wins start rolling out. Let the woohoos commence anyway.