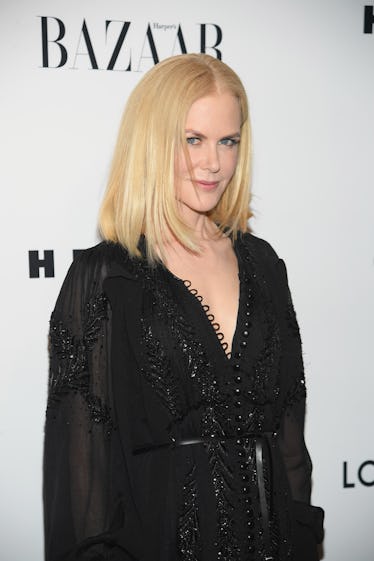 Nicole Kidman's Golden Globes Acceptance Speech Is All About The "Power Of Women"
Dimitrios Kambouris/Getty Images Entertainment/Getty Images
The Golden Globes kicked off awards show season on Jan. 7. Perhaps even more important, the awards show is (affectionately) referred to as the stepping-stone to the Oscars. An extremely tough category this year was for best actress in a limited series — mostly because there were so many good miniseries this year. From The Sinner to Big Little Lies, all the usual suspects were nominated. In fact, the lineup of actresses could have been its own awards show. Unfortunately, only one could win. The winner of best actress in a limited series at the Golden Globes is Nicole Kidman, and Kidman's Golden Globes acceptance speech was something special.
Kidman's speech was extremely gracious, and she was sure to include all her female co-stars by saying, "This is ours to share. Wow, the power of women."
Kidman continued on by thanking her mother for being an activist for women's rights and said, "this is what you fought so hard for." I WAS LITERALLY IN TEARS. Kidman recognized that Big Little Lies and her character's story of abuse is very topical to Time's Up and everything surrounding it.
She encouraged the entire room (and everyone at home), saying, "I do believe and I hope we can elicit change through the stories we tell and how we tell them. Let's keep the conversation going."
Like I said, the competition was fierce. Three shows were represented in the category — The Sinner, Big Little Lies, and Feud: Bette & Joan. The nominees were:
Jessica Biel (The Sinner)
Nicole Kidman (Big Little Lies)
Jessica Lange (Feud: Bette & Joan)
Susan Sarandon (Feud: Bette & Joan)
Reese Witherspoon (Big Little Lies)
After Big Little Lies swept at the Emmys in September, fans were assuming the pattern would follow for the Golden Globes. Feud: Bette & Joan was expected to win big after it's astonishing 10 nominations at the Emmys and four noms at the Golden Globes, but was rolled over by Big Little Lies.
Nicole Kidman has been the sweetheart of awards show season. After winning for best actress at the Emmys, she gave a stunning speech that people are literally still talking about. On Big Little Lies, Kidman plays Celeste, a woman who is quietly being abused by her husband Perry (Alexander Skarsgård).
The real-life mom wanted to send a message to her daughters about bringing a bigger message to the forefront no matter what position you're in. She said,
Also I want them to know that sometimes when you're acting you get a chance to bring a bigger message — and this is their contribution and your contribution — we've shown a light on domestic abuse. It is a complicated, insidious disease. It exists far more than we allow ourselves to know.
Since getting so much attention for her role as Celeste, Kidman has opened up about what it's like to depict the graphic abuse scenes. She told W Magazine,
I felt very exposed and vulnerable and deeply humiliated at times. I mean, I remember lying on the floor in the bathroom at the very end when we were doing the scenes in episode seven, and I was lying on the floor and I just wouldn't get up in between takes. I was just lying there, sort of broken and crying, and I remember at one point [director] Jean-Marc [Vallée] coming over and just sort of placing a towel over me because I was just lying there in half-torn underwear and just basically on the ground with nothing on and I was just, like [gasps].
Big Little Lies is an amazing show that has caused a big splash. If the Golden Globes are any indicator, the show is still shining bright.