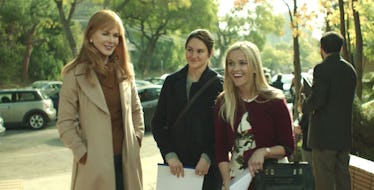 Check & See If Your Favorite Shows Are Heading To The 2018 Golden Globes
HBO
It has been a bombshell year in television, with movie stars making their way to the small screen and sprawling sci-fi epics becoming more cinematic than ever. On Monday morning, Dec. 11, the Hollywood Foreign Press unveiled its list of nominations for this year's Golden Globe Awards, and the TV categories are stacked with tons of amazing shows from 2017. It will definitely be hard to pick out the winners, but we can always look at the 2017 Emmy winners from a couple months ago to get a good idea about frontrunners.
As you probably remember from September, the big winners at the Emmys this year were Big Little Lies and The Handmaid's Tale, two dark, female-led new dramas. Of course, both shows are also up for a bunch of Golden Globes as well, and they are the safest bets for sweeping the limited series and drama categories. Big Little Lies brings a powerhouse collection of film actresses to the small screen, including Reese Witherspoon, Shailene Woodley, and Nicole Kidman, who has already won the Emmy for her role in the HBO miniseries. The Handmaid's Tale is another new book adaptation getting a ton of critical love, and its lead Elisabeth Moss may very well follow up her Emmy win with a Golden Globe.
In the comedy categories, the frontrunners to watch will likely be Blackish and Master of None, along with newcomers this year like The Marvelous Mrs. Maisel, SMILF, and GLOW. These nominations cover a much more recent swath of show than the Emmys did earlier this year. The big winner there was Saturday Night Live, along with Atlanta and Veep.
Take a look at the full list of TV nominees for the 2018 Golden Globes below:
Best Television Series — Drama
The Crown
Game of Thrones
The Handmaid's Tale
Stranger Things
This Is Us
Best Television Series — Musical or Comedy
Blackish
The Marvelous Mrs. Maisel
Master of None
SMILF
Will & Grace
Best Television Limited Series or Motion Picture Made for Television
Big Little Lies
Fargo
Feud: Bette & Joan
The Sinner
Top of the Lake: China Girl
Best Performance by an Actor In A Television Series — Drama
Jason Bateman (Ozark)
Sterling K. Brown (This Is Us)
Freddie Highmore (The Good Doctor)
Bob Odenkirk (Better Call Saul)
Liev Shreiber (Ray Donovan)
Best Performance by an Actress In A Television Series — Drama
Caitriona Balfe (Outlander)
Claire Foy (The Crown)
Maggie Gyllenhaal (The Deuce)
Katherine Langford (13 Reasons Why)
Elisabeth Moss (The Handmaid's Tale)
Best Performance by an Actor in a Television Series — Musical or Comedy
Anthony Anderson (Blackish)
Aziz Ansari (Master of None)
Kevin Bacon (I Love Dick)
William H. Macy (Shameless)
Eric McCormack (Will & Grace)
Best Performance by an Actress in a Television Series — Musical or Comedy
Pamela Adlon (Better Things)
Alison Brie (GLOW)
Rachel Brosnahan (The Marvelous Mrs. Maisel)
Issa Rae (Insecure)
Frankie Shaw (SMILF)
Best Performance by an Actor in a Limited Series or a Motion Picture Made for Television
Robert de Niro (Wizard of Lies)
Jude Law (The Young Pope)
Kyle McLachlan (Twin Peaks)
Ewan McGregor (Fargo)
Geoffrey Rush (Genius)
Best Performance by an Actress in a Limited Series or a Motion Picture Made for Television
Jessica Biel (The Sinner)
Nicole Kidman (Big Little Lies)
Jessica Lange (Feud: Bette & Joan)
Susan Sarandon (Feud: Bette & Joan)
Reese Witherspoon (Big Little Lies)
Best Performance by an Actor in a Supporting Role in a Series, Limited Series or Motion Picture Made for Television
Alfred Molina (Feud: Bette & Joan)
David Harbour (Stranger Things)
David Thewlis (Fargo)
Alexander Skarsgård (Big Little Lies)
Christian Slater (Mr. Robot)
Best Performance by an Actress in a Supporting Role in a Series, Limited Series or Motion Picture Made for Television
Laura Dern (Big Little Lies)
Ann Dowd (The Handmaid's Tale)
Chrissy Metz (This Is Us)
Michelle Pfeiffer (Wizard of Lies)
Shailene Woodley (Big Little Lies)