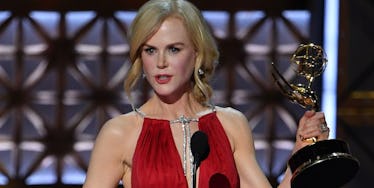 Celebrities Congratulating 'Big Little Lies' On Their Emmy Wins Is So Heartwarming
Ferederic J. Brown/Getty Images
If you own a TV set (sorry, Shailene) or a computer, then you know Big Little Lies was THAT show in 2017. In a year filled with amazing, groundbreaking television, Big Little Lies caught everyone's attention. Naturally, with great direction and a star-studded cast to bring the dark mystery to life, it's no surprise the HBO limited series was nominated in a whopping 16 categories at the 2017 Emmy awards. Indeed, Big Little Lies at the Emmys went on to be one of the night's biggest winners, pulling in an astounding eight wins between the cast, crew, and producers and beating out acclaimed shows like Feud: Bette & Joan, Fargo, American Crime, and The Wizard of Lies.
Some of the show's major wins of the night went to Nicole Kidman for Outstanding Lead Actress in a Limited Series or Movie, Laura Dern for Outstanding Supporting Actress in a Limited Series or Movie, and the executive producers of the show (who included Reese Witherspoon and Nicole Kidman) for Outstanding Limited Series. While seeing the show's hard work be applauded in the form of Emmys gold was heartwarming enough for fans, tons of A-list celebs have taken to Twitter to congratulate the Big Little Lies cast and crew on their much deserved success at the awards show, making the show's accomplishments even more rewarding and emotional.
Some former costars of the show's actors made sure to congratulate their winning friends.
And some future costars (and BFFs) of the Big Little Lies actors did the same.
Some celebs had jokes after seeing the wins roll in for the cast.
And some Big Little Lies costars are just too cute for words.
The show's popularity and success at the Emmys were not lost on the winners, either. Indeed, several of the winners' speeches mentioned how fortunate they felt to be able to tell the story present within Big Little Lies. During her acceptance speech for Outstanding Lead Actress in a Limited Series or Movie, Nicole Kidman took a moment to highlight how her character's struggle with domestic violence might hopefully bring more awareness to the issue. The actress said,
Sometimes when you're acting, you get a chance to bring a bigger message. We shone a light on domestic abuse. It is a complicated, insidious disease, and it exists far more than we allow ourselves to know. It is filled with shame and secrecy, and by you acknowledging me with this award, it shines a light on it even more.
Meanwhile, Reese Witherspoon used her time at the mic after winning for Outstanding Limited Series to highlight the importance of seeing women represented in film and on TV through complex, dynamic, fierce characters. The executive producer and actress said in her acceptance speech,
It's been an incredible year for women on television. Can I just say, bring women to the front of their own stories, and make them the hero of their own stories. And thank you for that opportunity and for audiences to wrap their arms around us. Jean‑Marc [Vallée], David Kelley, you are incredible and thank you for giving us these stories.
Witherspoon's sentiments were present earlier in the evening, as well, during Laurea Dern's speech for Outstanding Supporting Actress in a Limited Series or Movie, where she said,
I've been acting since I was 11 years old and I think I have worked with maybe 12 women, so I want to thank the television academy for honoring our show and working with this incredible tribe of fierce women.
Of course, now that Big Little Lies is a bonafide, award-winning hit, fan's hopes for a second season have been heightened times infinity. When asked backstage about the possibility of a second season, the show's director, Jean-Marc Vallée said "It would be great to reunite the team. Are we gonna be able to do it? I wish. We'll see what the future holds."
Ugh. I guess in true BLL fashion, it'll have to remain a mystery for now; though, after all those wins, I can't see why anyone wouldn't want Season 2.