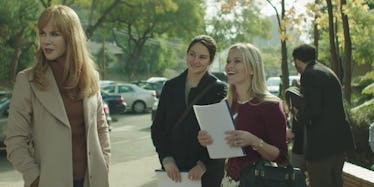 'Big Little Lies' Cast At The Emmys Has Fans Everywhere So Ready For A Season 2
YouTube/HBO
When it comes to a good mystery, no one can resist one filled with all kinds of juicy details. Naturally, when it comes to Big Little Lies — much like Reese Witherspoon's portrayal of Madeline Mackenzie — we want more. It comes as no surprise that when the leading ladies of the HBO crime series hit the red carpet, fans tuned in. The Big Little Lies cast at the 2017 Emmys totally got everyone hyped for a second season.
But back to the red carpet for a quick second: Shailene Woodley, who plays Jane on the HBO hit, arrived wearing a velvet green stunner (and bright, platinum blond locks!), while Nicole Kidman (who played Celeste) stunned in red. Witherspoon looked elegant (as per usual) in a blue long-sleeved dress.
Everyone's been patiently waiting for this moment for quite some time. On Friday, Sept. 15, Witherspoon got everyone pumped for the big night with a few social media posts. She jokingly wrote on Twitter, "Prepping for the Emmy's like," and included the iconic scene of the show's stars jogging on the beach. She also followed up — "in the spirit of the Emmys" — with a quiz that will tell users which Big Little Lies mom they are most like. Fans couldn't wait for them to make an appearance, especially after teasing them with memes.
The show, which premiered in February 2017, definitely has a lot to celebrate. In total, Big Little Lies received 16 Emmy noms, five of which are in acting categories. Big Little Lies is up for Outstanding Limited Series and Outstanding Writing for a Limited Series, while Witherspoon and Kidman are nominated for Outstanding Lead Actress in a Limited Series or Movie, and Woodley landed a nom up for Outstanding Supporting Actress in a Limited Series or a Movie.
When the announcements were made, each actress took to social to show their support of one another (minus Kidman, who clearly needs to get on Twitter stat).
The series, which is based on Liane Moriarty's novel of the same name, became quite a hit for those who cannot resist a whodunit. However, it certainly came with many emotions — especially for the stars.
Kidman revealed what it was like to depict the show's horrific domestic abuse scenes in an interview with W. She said,
I felt very exposed and vulnerable and deeply humiliated at times. I mean, I remember lying on the floor in the bathroom at the very end when we were doing the scenes in episode seven, and I was lying on the floor and I just wouldn't get up in between takes. I was just lying there, sort of broken and crying, and I remember at one point [director] Jean-Marc [Vallée] coming over and just sort of placing a towel over me because I was just lying there in half-torn underwear and just basically on the ground with nothing on and I was just, like [gasps].
Likewise, Alexander Skarsgård, who plays Perry, hit the red carpet on CBS' Facebook Live and commented on the nature of those scenes, saying the first season was "a wild ride."
Though at times dealing with difficult material, the show truly kept fans captivated and curious. Many were wondering if a Season 2 was in the works. During the Television Critics' Association's summer press tour, HBO's programming president, Casey Bloys, claimed to have asked the author to take a crack at writing Season 2, according to TV Line. Though executive producer and director Jean-Marc Vallée insisted that there was no need for a return, Bloys said, "Nicole and Reese can be very persuasive," TV Line reported.
I'm willing to bet everyone is eternally grateful for the actresses' persuasiveness.