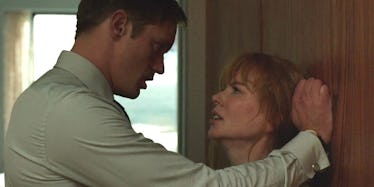 Nicole Kidman Recalls Lying On The Floor "Broken And Crying" After 'Big Little Lies'
HBO
Though Nicole Kidman was only playing an abused women in the HBO miniseries Big Little Lies, she couldn't shake the devastating emotions the role forced on her.
The actress opened up about how acting out the domestic abuse scenes in the series deeply affected her in real life in a new interview with W Magazine. Kidman emotionally recalled how she would lie on the bathroom floor in between filming scenes and cry.
I felt very exposed and vulnerable and deeply humiliated at times. I mean, I remember lying on the floor in the bathroom at the very end when we were doing the scenes inEepisode 7, and I was lying on the floor and I just wouldn't get up in-between takes. I was just lying there, sort of broken and crying, and I remember at one point [director] Jean-Marc [Vallée] coming over and just sort of placing a towel over me because I was just lying there in half-torn underwear and just basically on the ground with nothing on and I was just, like [gasps].
In the series, Kidman played Celeste, a mother of two who was being abused by her husband Perry (Alexander Skarsgård) in private. In various scenes, Perry would hit and choke Celeste, usually as a lead-in to having sex.
Kidman says although she had a great connection and enormous trust in Skarsgård, it was difficult to leave the emotionally taxing work on set. She would come home at the end of the day and still feel the weight of the abusive scenes.
But despite the emotional turmoil the role caused her, Nicole Kidman says she continues to embrace the anguish in order to authentically portray a domestically abused woman:
I would have flashes of images of women that have gone through this and I'm like, 'This is authentic, this is the truth and this is what I have to do.'
Thankfully for Kidman, if Big Little Lies comes back for another season it will be without her character's abuser, since he was killed in the finale.