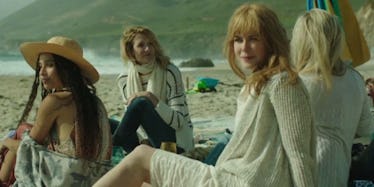 'Big Little Lies' Author Is Planning A Season 2 About Bonnie And Celeste
HBO
Warning: This post contains spoilers for "Big Little Lies," both the show and the book. You've officially been warned, so no yelling at me in the comments.
Soooo remember how the director of HBO's "Big Little Lies" was like "HELL NO you ain't getting no season two," despite that semi-ambiguous ending?
(I am obviously paraphrasing that quote, but that was the gist.)
Well it turns out the author of the original novel, Liane Moriarty, has other ideas. Her ideas are more "already planning the plot lines of season two."
The Australian author recently spoke to The Sydney Morning Herald and revealed she's thinking about another season, at the request of the show's producers.
Moriarty said,
I have started to think about ways this could continue. The producers have asked me to see if I can come up with some ideas. I wouldn't write a new book but perhaps a new story and then we'll see what happens. I'm absolutely open to it because, once I started thinking, it was too much fun to see what I could do and to see these characters again. And there's definitely places you can go.
What places are these, you might ask?
Moriarty said she's most interested in fleshing out Zoë Kravitz's character, Bonnie, who had a backstory of abuse in the book that was left out of the HBO adaptation.
The author said,
The obvious thing is, first of all, I think we could bring in more of Bonnie's story from the book.
And on top of that, Moriarty said she'd like to see what's next for Nicole Kidman's character, Celeste, after the death of her abusive husband played by Alexander Skarsgärd.
Moriarty said,
That's the question that's also a really interesting thing, when you've been through a relationship like that, how do you feel now? How would she feel? She's grieving. She's still grieving for the end of a terrible relationship and I think that would be a really interesting thing to explore.
I'm all for that! The only problem is the talented director responsible for making this show so excellent is, well, not.
Last week, director Jean-Marc Vallée told The Hollywood Reporter,
'Big Little Lies One' is a one-time deal. 'Big Little Lies Two'? Nah. The end is for the audience to talk about. Imagine what you want to imagine and that's it. We won't give you a season two because it's so good like this. Why spoil it?
Meanwhile, Moriarty said,
I think everybody is pretty keen. They all loved working together, but I think the thing is the story has to be right. So if is right, and if [showrunner] David E. Kelley is happy to get the screenplay right, then I think that'll do it.
Well, this is awkward.
Citations: Exclusive: Big Little Lies' Liane Moriarty confirms her plans for season two (The Sydney Morning Herald)