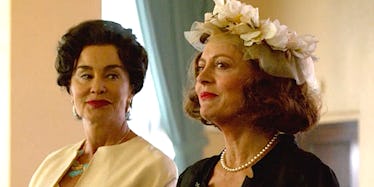 'Feud: Bette And Joan' Got The Most Emmy Nominations But Zero Wins & There's A Reason
FX
Bette Davis and Joan Crawford were awards show staples back in the golden age of Hollywood, but even they may have found it difficult to stand out in the current era of peak TV. Ryan Murphy's FX series dramatizing the lives of the two Hollywood legends went into the Emmys last night with the most nominations of any show, but surprisingly left without winning any of the awards it was up for. But there's a reason behind the shocking snub — here's why Feud: Bette and Joan left the Emmys empty-handed after going in with the most prospects out of any other series.
The first thing to note is that Feud actually went into the Emmys unable to win all the categories it was up for. Though it beat out every other nominated project with a whopping 10 nominations at this year's ceremony (tying Veep for the most nominations of the year), Feud was actually nominated against itself in four categories. That meant the most the show could actually win on Sunday night was six trophies. Both the show's pilot and finale were up for Outstanding Writing for a Limited Series, and both lead actresses Susan Sarandon and Jessica Lange were up against one another for Outstanding Lead Actress in a Limited Series. Additionally, the series was double nominated in the Outstanding Supporting Actor and Actress in a Lead Series categories, with Alfred Molina and Stanley Tucci up against each other, and Judy Davis and Jackie Hoffman squaring off as well.
But despite the doubled chances in most of its categories, Feud surprisingly didn't manage one win. And that snub can be explained in three words: Big Little Lies. The limited series categories are historically the easier ones to sweep since fewer are made each year, and this year HBO's smash series Big Little Lies completely walled Feud from winning any Emmys. It was somewhat surprising since the limited series categories have been Ryan Murphy's stomping ground for the past few years. Last year, his other anthology series American Crime Story dominated the categories, and American Horror Story has also won several Emmys in past years. But this year, it was pretty clear the limited series sweep would go to Big Little Lies, which boasted both mega-wattage star power as well as unanimous praise from critics and viewers alike.
As many fans predicted, Big Little Lies did go on to sweep the limited series categories. It beat out Feud for Outstanding Limited Series and Outstanding Directing for a Limited Series, and BLL stars Nicole Kidman, Alexander Skarsgård, and Laura Dern beat out the Feud cast in the acting categories. The only category in which Feud lost to something other than Big Little Lies was Outstanding Writing for a Limited Series, which went to the standout "San Junipero" episode of Black Mirror.
Although Big Little Lies was the clear favorite in the category, it's still pretty shocking to see the most-nominated show of the night wind up with absolutely no awards. At least Feud found itself in good company among the other fan-favorite shows to be surprisingly snubbed at the Emmys this year. With The Handmaid's Tale, Saturday Night Live, and Big Little Lies snatching up pretty much all the awards at this year's ceremony, other popular freshman breakouts predicted to clean out wound up with no love from the Emmys. Along with Feud, both Westworld and Stranger Things went into the ceremony with a bunch of nominations but left with no trophies to show for it. Those two sci-fi breakouts will have to blame The Handmaid's Tale instead of Big Little Lies for walling them in all the TV drama categories, though. Hulu's dystopian drama wound up winning every single category it was nominated in.
So I guess this just means Feud will have to come even harder with its second season, which will focus on Prince Charles and Princess Diana. As of right now, it doesn't have to worry about competition from Big Little Lies next year, since the HBO series has yet to be picked up for another season — but of course, that could change any minute now.