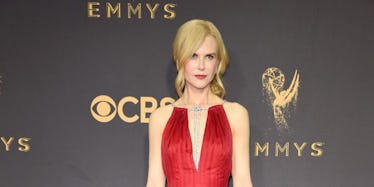 Nicole Kidman's Emmys Acceptance Speech Sent A Strong Message About Domestic Abuse
Kevin Mazur / Contributor / Getty Images
Fans were rooting for Big Little Lies to take home plenty of awards at the 69th annual Emmys. Though there was of course room for celebration, Nicole Kidman's win for lead actress in a limited series came with a serious note. She said her thank-yous and turned her attention to the domestic abuse material viewers witness on the crime show.
Kidman plays Celeste, one of the moms in the series who is abused by her husband Perry (played by Alexander Skarsgård). The real-life mom wanted her daughters to realize that there is a message behind Celeste and Perry's story. According to her acceptance speech, Kidman said,
Also I want them to know that sometimes when you're acting you get a chance to bring a bigger message — and this is their contribution and your contribution — we've shown a light on domestic abuse. It is a complicated, insidious disease. It exists far more than we allow ourselves to know.
Earlier in the evening, Skarsgård appeared on the CBS Facebook Live during the red carpet and shared the same feelings about the show, noting the serious material. He said the first season was "a wild ride."
This hasn't been the first time the actors acknowledged the serious undertones of Big Little Lies. 
Kidman revealed what it was like to depict the show's horrific domestic abuse scenes in an interview with W. She said,
I felt very exposed and vulnerable and deeply humiliated at times. I mean, I remember lying on the floor in the bathroom at the very end when we were doing the scenes in episode seven, and I was lying on the floor and I just wouldn't get up in between takes. I was just lying there, sort of broken and crying, and I remember at one point [director] Jean-Marc [Vallée] coming over and just sort of placing a towel over me because I was just lying there in half-torn underwear and just basically on the ground with nothing on and I was just, like [gasps].
Though certainly a show that focuses on real, frightening topics, it also is one that celebrates friendship. When the Emmy nomination announcements were made, each actress took to social media to show their support of one another (minus Kidman, who clearly needs to get on Twitter stat).
Reese Witherspoon, who was up for the same award as Kidman, was a Twitter and Instagram firestorm sending out updates and memes in anticipation of the event.
There was also another lighthearted part of the night in regards to Big Little Lies: that kiss between Kidman and Skarsgård. When the actor won outstanding supporting actor in a limited series or movie for his portrayal of Perry, Kidman congratulated him with a big smooch on the lips, all while her husband Keith Urban watched in full view. It definitely caused quite the stir.
Now that the series was a big success at the award show, people cannot wait for a second season. Though at times dealing with difficult material, the show truly kept fans captivated and curious. Many were wondering if HBO was going to bring it back after it became such a successful hit earlier this year.
During the Television Critics Association's summer press tour, HBO's programming president, Casey Bloys, claimed to have asked the author to take a crack at writing season two, according to TV Line. Though executive producer and director Jean-Marc Vallée insisted that there was no need for a return, Bloys claimed, "Nicole and Reese can be very persuasive."
It looks like fans will be heading back to Monterey, California, after all.