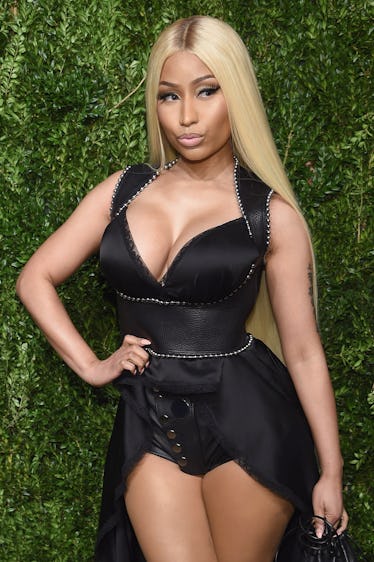 Nicki Minaj Says 2 Rappers Already Contacted Her About Getting Dissed In "Barbie Dreams"
Dimitrios Kambouris/Getty Images Entertainment/Getty Images
Good gawd I love Nicki Minaj. Like, I really, really love her. She's a powerhouse female in a male-dominated industry and was just sitting around one day thinking to herself, "Ya know what? I'm going to write a diss track about every powerful dude in the game." Whether that's your personal approach to life or not, you've got to admit it: She's hardcore. Minaj recently popped by The Late Show with Stephen Colbert where she admitted she's heard back from a couple of the rappers she mentions in her song, "Barbie Dreams." Nicki Minaj's reaction to rappers contacting her over the diss track is exactly as chill as you'd expect. Honestly, she doesn't seem that worried or bothered. It's all fun and games when you're queen of the world.
The entirety of "Barbie Games" is basically one long lyric making fun of Minaj's male peers. She calls out everyone from her boy Drake to her fake crush Eminem. Meek Mill, DJ Khaled, 50 Cent, Desiigner, Lil Uzi Vert aren't safe either, just to name a few guys in the hot seat. Here is a handful of examples of some of her more tame burns:
Drake: "Drake worth a hundred milli, always buying me sh*t / But I don't know if the p*ssy wet or if he's crying and sh*t"
Eminem: "Em, cop the barbie dream house then you can play the part / I ain't tryin' to bust it open in a trailer park"
Odell Beckham: "And I would've had that Odell Beckham banging the cake / 'Til I saw him hopping out of cars dancing to Drake"
During her appearance with Colbert, Minaj admitted she had been contacted by two men from the song so far. She told Colbert, "Only one person so far got a little irritated, but then I explained to him how much I love him, and he understands now." Then she added,
And then one person, he was just laughing. He was texting me...it was kinda like a mix between cursing me out and laughing at it, but I just kept putting the crying-face emoji so that I could make things not as bad.
What can't be solved with an emoji, ya know?
You can watch her explain the situation in the clip below.
Look, my dream is to be mentioned in a Nicki Minaj song. I've always loved her narrative on being so unapologetically yourself and to never minimize your career goals just because you're a female. One time, I saw a YouTube clip from nearly nine years ago (when I was way younger and really needed the perspective) in which Minaj most accurately explained the difference between being an assertive man and an assertive woman.
She told cameras, "When I am assertive, I'm a b*tch. When a man is assertive, he's a boss. He's 'bossed up.' No negative connotation behind 'bossed up,' but lots of negative connotation behind 'being a bitch."
THE WOMAN MAKES A DAMN POINT. ALL HAIL MY QUEEN!
If "Barbie Dreams" isn't your bag, surely one of her other tunes off her new album Queen will be. You can stream the whole thing on Spotify, Apple Music, or Tidal. Go in Goddess.